Getting closer to a vaccine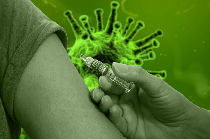 At least three vaccines are about to be authorised in US and the European Union, with the first doses possibly reaching Romania by year's end.
Decision makers in Bucharest have finalised the National Anti-Covid Vaccination Strategy which will go on to be submitted for approval by the Country's Supreme Defence Council in the next few days. President Klaus Iohannis said the strategy lays down all details relating to supply, storage and staffing involved in the process. Vaccination will be done in different stages, depending on the approval, production and allocation of one or more vaccines by each country, the president said:
"Under the strategy, the priority list for vaccination includes the entire staff working in the healthcare sector, as well as staff from care homes and social centres, the population with a high risk of developing severe symptoms in case of infection and staff working in key areas in society. Vaccination will be done at the workplace in the case of the medical staff and in permanent and mobile centres, by mobile teams, as part of the GP network and in drive-through centres for the rest."
All official information will be communicated via a special website dedicated to the vaccination campaign. The National Coordination Committee is already discussing the details with professional organisations and patients' associations. Once approved by the relevant international bodies, the vaccines are safe, efficient and the only viable solution to end the pandemic, president Iohannis emphasised.
The defence ministry will play an important role in supporting the inter-institutional effort for vaccination, providing the needed logistics. The distribution strategy also takes into account the specific conditions for storage and shipment needed for each individual vaccine. The defence ministry said the locations were established where the vaccines will be stored in special conditions, at a temperature of minus 80 degrees Celsius. The main venue is the Cantacuzino National Institute for Military-Medical Research and Development in Bucharest, as well as six army emergency hospitals around the country, in Timişoara (west), Craiova (south), Braşov (centre), Cluj-Napoca (north-west), Iaşi (east) and Constanţa (south-east). The defence ministry will handle the transportation of the vaccine by land and air and will help with the distribution to vaccination centres around the country and will assist the vaccination teams.
"There was a lot of uncertainty at the beginning of the pandemic, there were many unknowns that turned the fight against the SARS-CoV-2 virus into a race against a fierce opponent, but now that vaccines have become reality, we are beginning to glimpse, with optimism, the end of this serious medical crisis. Until then, however hard it is, we must be patient and responsibly comply with the prevention measures in place, measures which are beginning to yield results, for the evolution of the pandemic in Romania is still extremely worrying", president Klaus Iohannis also said. (CM)
www.rri.ro
Publicat: 2020-11-24 14:00:00
Vizualizari: 445
Tipareste