Talks on supporting the hospitality industry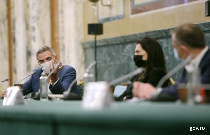 One of the industries the worst hit by the pandemic will receive support from the Romanian government
Representatives of the hotel, restaurant and café sector (HoReCa), one of the most affected by the COVID-19 crisis in Romania, discussed with PM Ludovic Orban and the economy minister Virgil Popescu about a state-aid scheme to offset the losses incurred by the companies in this sector.
According to the economy minister, the estimated budget is 500 million euros, and the financing ceiling for a company will be 800,000 euro. Next week at the latest, the Government will come up with a bill approving the mechanism under which hospitality companies and travel agencies will receive these grants.
The state-aid scheme will be implemented after being approved by the European Commission, and the implementation mechanism will be facilitated by a software solution to cut the red tape.
Other measures discussed at the meeting were the granting of furlough payments to employees, and means to implement flexible working hours. The PM believes a 6-month extension of the furlough programme to be necessary for the employees whose activity was affected by the health crisis, and flexible working hours to be useful and meeting the needs of the HoReCa sector.
The talks between the government and industry officials will continue in the coming period. So far, the government has granted tax cuts, continued to pay furlough benefits and paid over 41% of the salaries of employees.
Restaurants are currently closed in Romania over the large number of coronavirus infections, and the cold weather prevents outdoor bars, cafes and restaurants from running at full capacity. According to statistics, 10,000 restaurants have been closed in Romania so far over the pandemic. Moreover, estimates indicate that the next 6 months will be dramatic for the hospitality industry, with 70-80% of the hotels expected to shut down. Business owners say they have lost nearly 80% of their turnout and that almost 100,000 jobs in the sector, accounting for almost half of the total, will be lost by the end of the year.
This is why representatives for the industry request concrete measures to be taken by the government, so that the industry may survive in the forthcoming period. According to entrepreneurs, the industry will not return to normal parameters until 2023, and the hotel industry in another 2 years.
A survey conducted recently at the request of the HORA Romanian Hotel and Restaurant Employers Organisation says that almost 8 out of 10 Romanians believe restaurants should be reopened. (translated by A.M.Popescu)
www.rri.ro
Publicat: 2020-11-26 13:50:00
Vizualizari: 676
Tipareste