Stages of the immunization campaign in Romania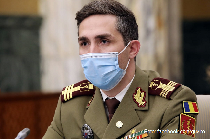 Romania has organized the vaccination campaign in three main stages, the first one being under way.
The immunization campaign against Covid-19 is under way in Romania, where no special events have been reported and procedures have been observed, military doctor Valeriu Gheorghita, the coordinator of the national vaccination campaign said on Tuesday after getting the first dose of the Pfizer/BioNtech vaccine in front of the TV cameras. He announced that the 250 vaccination centers are open daily, from 8 am to 8 pm and even after this hour for the medical staff entering night shifts. The number of people vaccinated per day is also on the increase, getting close to 20 thousand, the target set for the first stage of the campaign which includes the healthcare staff in medical and social units. Valeriu Gheorghita has admitted that there are aspects that need to be improved, and has promised that the second and third stages of the immunization campaign will bring a simplified registration procedure.
The second stage of the immunization campaign is expected to start on January 15, in 900 dedicated centers where more than 140 thousand people can get the vaccine every day. The second stage includes around 4 million people aged over 60 and suffering from chronic diseases as well as around 40 thousand people in medical and social centers. The latter will be vaccinated by mobile medical teams. The second stage also includes the staff working in education and carrying out essential activities for the Romanian education system.
The third stage of the vaccination campaign may start in April and will include all people who want to get vaccinated. However, the pace of vaccine delivery and the vaccination capacity can modify the starting date of the third stage. "We have a vaccination capacity that can cover all three stages. We try to speed up vaccine delivery but this is something that needs to be negotiated at the level of the European Commission and it is not up to the Romanian state " military doctor Valeriu Gheorghita said.
In his turn, PM Florin Citu said Romania is trying to increase the number of doses received per week, to almost 100 thousand per day. "Vaccines are coming. We receive 140 thousand per week. There is no problem here. The quantity we get will increase gradually until March, but we would like to have more," PM Catu said in a conference call with the prefect.
Studies show that between 30% and 50% of Romanians hesitate as regards getting immunized or wish to postpone it, while authorities plan to continue the information campaign to convince people it is the right thing to do. (Translated by Elena Enache)
www.rri.ro
Publicat: 2021-01-06 02:00:00
Vizualizari: 356
Tipareste