Second vaccine authorised by the EU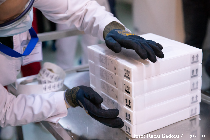 The European Commission has authorised the Covid-19 vaccine produced by the US company Moderna
Just a few hours after the European Medicines Agency issued its recommendation, the European Commission on Wednesday authorised the second Covid-19 vaccine, namely the one produced by the US company Moderna. In fact, the EC has already ordered 160 million dozes of the vaccine, on behalf of the EU member countries. The vaccine is to be used for people over 18 and, just like the one produced by Pfizer/BioNTech, will be administered in two dozes.
On its website, the European Medicines Agency gives assurances that the vaccine meets all EU safety standards and promises to continue to monitor its efficacy. Moderna, too, says it will monitor the effects of the vaccine in the following two years. According to clinical trials on some 30,000 subjects, aged 18 to 94, the vaccine's efficiency is 94.1%. It is based on the messenger-RNA technology, just like the one made by Pfizer/BioNTech, which prepares the body to defend itself if it contracts the SARS-CoV-2 virus. After vaccination, the body produces a protein in the coronavirus and, subsequently, antibodies. After a short while the protein disappears, but the body will recognise it and defend itself.
While waiting for the first Moderna vaccines, Romania has been receiving those from Pfizer/BioNTech. The third tranche of 150,000 dozes arrived on Wednesday. Authorities say that the immunisation process is unfolding in keeping with the national strategy developed to this end, and medical staff are being immunised in the first stage.
In another move, Romania has joined another 12 EU member countries and, in a joint letter to the European Commission, called for support for the Eastern Partnership and Western Balkan states, countries that are poorer or do not have a clear calendar for national vaccination campaigns.
The Union will not be safe from Covid-19 until the countries it neighbours are able to recover from the pandemic too, the document reads. Romania has already sent to the neighbouring Republic of Moldova the first batch of medicine and medical equipment to fight the pandemic from the support package announced by Romania's President Klaus Iohannis on the occasion of his recent visit to Chisinau. He also promised 200,000 doses of vaccine for the Republic of Moldova. (M. Ignatescu)
www.rri.ro
Publicat: 2021-01-07 14:00:00
Vizualizari: 303
Tipareste