Romania and its strategic partnerships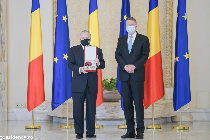 Romania remains a strong ally and reliable friend of the USA
Launched in July 1997, on the occasion of the visit to Bucharest of the then leader of the White House, Bill Clinton, the Strategic Partnership between Romania and the USA represents an essential landmark of Bucharest's foreign policy and, the Romanian Ministry of Foreign Affairs underlines, an effective support tool for the domestic efforts in the field of political, economic, military and administrative reform. In the context of the fight against the COVID-19 pandemic, the year 2020 marked new ways to strengthen this partnership, through the mutual support that the two countries gave each other, whether it was to facilitate the air transport of medical materials in Romania, repatriation of citizens or exchange of experience and help by deploying a medical team from Bucharest to the state of Alabama.
"2020 was also the year of the 140th anniversary of bilateral diplomatic relations, a time of reflection and projection into the future, with the confidence rendered by the fact that the ties between our countries are stronger than ever," President Klaus Iohannis said at the ceremony at which the US Ambassador to Romania, Adrian Zuckerman, at the end of his term, due to the change in the US administration, was decorated with the National Order "Star of Romania" in the rank of Grand Cross.
2021 is the year of celebration of a decade since the conclusion of the Joint Declaration on the Strategic Partnership for the 21st Century between Bucharest and Washington and the Agreement on the location of the US missile defense system in Romania, said the head of state, expressing his conviction that together with the new US administration, the development of the partnership and strong relationship of trust between the two countries, built on common values ​​and interests, will continue.
The president also recalled the progress made in the past years and the major bilateral projects in the field of security and defense, economy and energy cooperation. "Romania is an amazing country, a country with a bright future and with an unlimited potential", ambassador Adrian Zuckerman said in his turn, recalling the fact that he was born in Romania.
Another foreign bridge, this time in the relation with France, was consolidated thanks to the talks between the Romanian Prime Minister Florin Cîțu and his French counterpart, Jean Castex. "I was glad to see the continuity of bilateral relations between France and Romania, relations that have a long and successful history in several fields. Besides the discussions regarding the evolution of the pandemic and the vaccination process in the two countries, we stressed once again the importance of French companies in the process of Romania's economic recovery ", the Romanian prime minister wrote on his Facebook page, after the telephone conversation. In turn, the French official, expressed the full support that France will continue to give to Romania in all joint projects. (M. Ignatescu)
www.rri.ro
Publicat: 2021-01-19 13:50:00
Vizualizari: 529
Tipareste