Brussels calls for vaccine predictability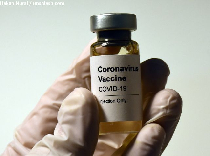 European Commission demands predictability of vaccine deliveries after pharmaceutical companies said they would reduce the number of doses supplied.
The European Union says it will require pharmaceutical companies producing Covid vaccines on its territory to register in advance any exports to third countries. Moreover, the European Commission plans to create an export register to ensure transparency when it comes to the export of vaccines outside of the EU. The Union will also oblige pharmaceutical companies to respect the contracts signed for the delivery of Covid vaccines. These decisions come as pharmaceutical companies making these vaccines last week announced a significant reduction in the number of doses delivered to EU countries in the first quarter of the year.
On Monday, the European Commission proposed updating the Council's recommendations on a coordinated approach to the restriction of free movement in response to the pandemic. According to a statement from the European Commission, this update comes amid concerns about the new, more contagious, variants of the virus and an increase in the number of confirmed cases in many member states. The European Commission thus discourages non-essential travel, while refraining from closing borders or imposing a blanket ban on travel. The Commission does not oblige member states to apply movement restriction measures, but firmly recommends such action, saying the infection risk associated with travel must be urgently reduced. The Commission also insists on maintaining a functional single market and discourages blocking hauliers and cross-border workers, recommending the use of rapid-result antigen testing in their case.
The Commission believes coordinated action is needed across the Union with respect to measures limiting the freedom of movement within the EU. It has also proposed a new way of mapping risk zones and stricter measures for arrivals from high-risk zones. The Commission believes countries must boost testing to find out more about the spread of the new strains and says a well-coordinated, predictable and transparent approach to the movement of people and goods is necessary to prevent the spread of the virus and ensure safe movement within the Union. (CM)
www.rri.ro
Publicat: 2021-01-26 13:50:00
Vizualizari: 246
Tipareste