The Republic of Moldova restarts relations with strategic partners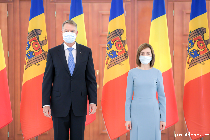 The first official visit to the Republic of Moldova was that of the president of Romania Klaus Iohannis
Around half of the nearly 4 million citizens of the Republic of Moldova are living and working abroad. It is thanks to them and the money they send back home that this corruption-marred country is not bankrupt. And it was also them who, in the mid-November election, tipped the scales in favour of the pro-Western Maia Sandu, who thus became the first woman president of this ex-Soviet republic with mostly Romanian-speaking population.
Shortly after the official results confirmed her clear victory against the former, pro-Russian Socialist president Igor Dodon, Maia Sandu announced her priorities—the fight against corruption, the reform of public institutions and strengthening a state able to ensure decent living conditions for its citizens.
In order to overcome poverty, the Republic of Moldova needs investments and jobs, so that those who are now living abroad may return and rebuild the country, analysts say. Foreign support is needed, and in this respect, ever since the first weeks of the new term in office Chișinău has made efforts to improve relations with its strategic partners, after Igor Dodon had frozen most external ties.
The first official visit to the Republic of Moldova was that of the president of Romania Klaus Iohannis—a visit designed, according to Bucharest, to convey a strong support message, both for the new leader in Chişinău, and for the citizens of Moldova, in their efforts to strengthen democracy, to implement the rule of law irreversibly and to consolidate the country's European path. The visit was also symbolic, after president Iohannis had declined visiting Moldova for 5 years. On the day of the Romanian president's visit, Vlad Țurcanu, political commentator and columnist in Chişinău, told Radio Romania that things were returning to normal:
Vlad Țurcanu: "In terms of emotions, we could say that blood is thicker than water, in the sense that, no matter how many political accidents we might have—and we are never safe from them in this quicksand land—at some point, things return to normal in this respect. In diplomatic terms, relations are at their peak today, after Mr. Iohannis avoided political and diplomatic relations with the outgoing president Igor Dodon. And after today's meeting, we expect other relations as well to be resumed, after this period of apathy. Although relations were not completely severed, as it happened in 2009 when a Romanian ambassador was removed from the country, there were artificial stand-offs in certain sectors."
Within weeks, we managed to restart relations with our neighbours and strategic partners, Romania and Ukraine, after a period in which top-level relations were frozen because of Chişinău's hostile policies to both Bucharest and Kyiv, Maia Sandu said in her turn:
Maia Sandu: "Another major partner with which we need to reset our relations is the EU. We intend to resume Moldova's efforts to get closer to the EU through economic and democratic reforms, able to turn Moldova into a European state, with European institutions, European-standard schools, hospitals and motorways, with a European future, to the exclusive benefit of all citizens."
Chişinău's departure from the principles of democracy at the time prompted Brussels to freeze, in 2018, most of its financial assistance to the Republic of Moldova. At present, determined to restore these relations, Maia Sandu has had meetings with all Brussels leaders. And she was given assurances that her country will be supported by the Union in its efforts to reform and to strengthen democracy, and in the fight against the COVID-19. In the coming period, Maia Sandu needs to strengthen her political position in Chişinău, analyst Vlad Țurcanu says. This year will likely bring early elections, to enable the new president, if possible, to rely on a parliamentary majority and a government backing her political and diplomatic efforts:
Vlad Țurcanu: "It is however quite possible for this first year of Maia Sandu's term to be a year of sacrifice, of carrying on the battle against Dodon and the loose ends of the oligarchy, which are still rather strong. Because the billion dollars stolen in 2014 has returned to the Republic of Moldova and is wreaking havoc, in the sense that many politicians are bought and manipulated as desired by a particular person. But Maia Sandu is only at the beginning of her term in office. And having come out of nowhere to the top position in the state, I believe she still definitely has that energy that has carried her to the president post. She enjoys huge citizen support against the alliance of parties that are not willing to lose control over the system, over financial flows, and through this on the political class. And I have no doubt, judging by the signs we have at present, that the European Union will also support her through political and financial instruments, giving substance to her term in office. There is full openness in Brussels towards Maia Sandu. And the West will most certainly understand that, if left to its own devices, Moldova will continue to experience such accidents as Igor Dodon's term in office was." So, Vlad Țurcanu concludes, a plan is needed for the Republic of Moldova to exit the grey area it tends to fall into every decade. (tr. A. M. Popescu)
www.rri.ro
Publicat: 2021-02-05 14:00:00
Vizualizari: 1439
Tipareste