Tourist Attractions in Salaj County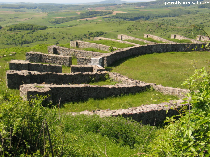 Today we go to western Romania, to discover the tourist attractions of Salaj County
Today we go to western Romania, to discover the tourist attractions of Salaj County. We will be talking about the Roman castrum Porolissum, the Zmey Garden nature reserve, and local gastronomy.
Our guide is Mircea Groza, with the Salaj Plus Association for Intercommunity Development, a well-known gastronomy expert.
Salaj County is small, with a surface of under 4,000 sqkm, but inhabited by several ethnicities that have left their imprint on local culture and civilization. It has a diversity of tourism objectives, but our first stop is at the Porolissum Archaeology Complex. Here is our host:
"This is one of the most important archaeology research areas in Romania. The fact that it is close to the county seat, Zalau, is an advantage. In fact, all circuits go around this point of attraction. It is the largest border castrum of Roman Dacia. It has an amphitheater, worship buildings, and minor fortifications in the limes area. Limes was the border of the Roman Empire. Lately, we have set up this archaeology complex to make it more accessible to tourists. We created within the castrum spaces for rest and recreation, in an area with a belvedere. We have built 45 panels with graphic reconstructions and information. We set up a tourist information center with a souvenir shop. We have on staff an expert guide. We are working on apps that would more easily provide information about the complex."
Not far away from the castrum we have the Jibou Botanical Garden. Here is Mircea Groza, with the Salaj Plus Association for Intercommunity Development:
"This is a garden stretching over 20 ha, boasting the richest collection of plants in Romania, extraordinarily diverse. Also, the area is spectacular. Not far away from Jibou, towards Porolissum, we reach the Zmey Garden. The zmey are Romanian mythical beings. It is a unique place in Europe. It is a protected natural area, stretching over 3 ha, famous mostly for its irregular grouping of crags. They appeared out of a phenomenon of destructive erosion in porous rock. They have strange shapes, and have names inspired by local culture."
As for cultural objectives, we cannot miss the Zalau Museum of Art and History. This is adapting to new technologies and trends for this type of institutions, says Mircea Groza:
"The museum has developed a modern concept, and offers an incursion into history through present technologies: virtual or augmented reality, and 3D modeling. Also, they are already considering a new exhibition model, under the title of 'I Want to Go to the Museum'. At the forefront they have 3D exhibitions. The museum is keeping up with what is happening in the world, and there are many things to show, especially during this difficult period, when it is hard to anticipate will happen in tourism. Then we have villages, where people with passion built living museums, or village museums. We can mention Ligia Bodea Pop, from Iaz village, whose museum gathered thousands of exhibits. She created a village with a few households, which is now growing. She did everything with her own money, out of passion. This example was followed by other young people in the county, who organize events that reference local customs. For instance, in Marin village, they revived traditional events such as the barn, wedding, and fair dances."
Salaj is well known in the country for its production of wine and local liquor, palinca. Here is Mircea Groza, with the Salaj Plus Association for Intercommunity Development:
"The palinca of Zalau, we can say safely, is a local brand. We also have wine cellars that continue to function, and can be visited. Bee keeping is also widespread in Salaj. Of course, I couldn't forget my big passion, gastronomy. For the last 40 years I've been researching traditional cuisine. In Salaj County alone I identified and documented 397 recipes of soups, different in name, ingredients, and taste. The tourist has the opportunity to experience these special preparations. I've always claimed that Romania is represented in cuisine by two special things: chunky vegetable soups, soups, sour soups, and stews. We have an incredible diversity. In Salaj alone we have over 170 different recipes for stews, documented or reconstituted by me."
It should be specified that he was talking about Romanian recipes. There are also Jewish, Slovak, or Hungarian recipes. In Salaj there are compact Slovak and Hungarian villages. This had a positive and enriching influence on local cuisine. The recipes are still being traded from one village to another, from one street to another, between households."
There you have it: the perfect destination for everyone, especially for families with kids. Agrotourism is also well developed, so you won't have to worry about finding accommodation, and you can find out the story of village preparations and dishes, some of them centuries old.
www.rri.ro
Publicat: 2021-02-18 13:43:00
Vizualizari: 187
Tipareste