NATO and defence expenditure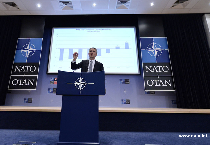 More countries allocated 2% of their GDP to defence in 2020.
In spite of the economic crisis triggered by the coronavirus pandemic, NATO countries have continued to invest in defence, according to the Annual Report 2020 presented in Brussels by NATO Secretary General Jens Stoltenberg. He has explained that existing threats have not gone away and that NATO's main responsibility during the COVID-19 pandemic has been to fulfil its core tasks, while ensuring that the health crisis does not become a security crisis. Stoltenberg said Russia's behaviour remains assertive and destabilising, and terrorism continues to represent a global security challenge and a threat to stability. At the same time, he said that the rise of China is shifting the global balance of power, with implications for the Alliance's security, values and way of life, while cyber and hybrid threats are more sophisticated and disruptive and climate change continues to exacerbate existing security challenges and generate new ones.
In light of all these, Stoltenberg came with the proposal for NATO to increase financing of defence and deterrence, so that allies offering capabilities no longer have to cover all expenses themselves. Thus, more members would take part in actions on NATO's eastern area, in air police and maritime missions and in military drills. According to NATO Secretary General, the new formula will better mirror the common defence principle and will make responsibilities and investment more equitable. He explained that a Europe which invests more in defence is an advantage for the Alliance and that there is no security alternative for the EU other than NATO.
According to the report, in 2020 France, Norway and Slovakia joined the group of allied countries that allocate at least 2% of the GDP to defence. Their number has now gone up to 11, the other eight countries being Greece, Estonia, the UK, Poland, Latvia, Lithuania, Romania and the US. In 2020 Romania spent over 4.3 billion euros on defence, of which almost 25% on equipment. Over a half of the country's defence budget went to personnel expenditure.
NATO's Deputy Secretary General, the Romanian Mircea Geoana, mentioned earlier the importance of the trans-Atlantic ties, saying that North America and Europe need each other more than ever before, in order to deal with current challenges such as cyber attacks, climate change and the competition of the big powers. Geoana hailed the contribution of Canada and the UK to the Alliance, though the command of multinational units in NATO's eastern area, the dispatch of ships and aircraft for NATO's sea and air security, and their leading role in digitization, innovation and the adoption of new technologies. Foreign ministers of NATO's 30 member countries will convene in Brussels next week, a meeting they will attend in person, for the first time since the start of the pandemic. The new US Secretary General, Antony Blinken, is also expected to attend. (EE)
www.rri.ro
Publicat: 2021-03-17 13:50:00
Vizualizari: 368
Tipareste