Eastern Europe braces up as pandemic worsens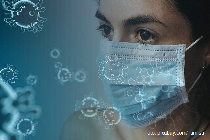 The number of SARS CoV-2 infections is on the rise in Eastern Europe.
Europe is struggling with a 3rd wave of COVID-19, one year since the World Health Organisation officially declared the spread of the coronavirus a pandemic. In the east of the continent, the number of infections is rising steadily, increasing the pressure on healthcare systems.
These days Romania has reached a 3-month high in respect of daily new COVID-19 cases—over 6,000. The number of coronavirus patients in hospitals exceeds 11,000, a figure not reported since the end of last year. Some 1,200 patients are in intensive care.
The health ministry talked to hospital managers to identify new places to treat SARS-COV-2 patients, after announcing that mobile units were organised in 3 hospitals in Bucharest. The ministry also announced that another 140 intensive care beds and around 210 intermediate care beds will be available for COVID-19 patients in county hospitals. In the coming days hospitals are to report to the health ministry on what options they have to further extend their capacity.
Public health experts say this increase in the number of infections may be triggered by the emergence of new variants, each with different transmission features and causing different, more severe forms of the disease than the original strain.
The countries around Romania are in turn facing a new surge in the number of cases. Bulgaria reported the fourth-highest number of COVID-related deaths per capita in the EU in the last 14 days, after Slovakia, the Czech Republic and Hungary. The Bulgarian health authorities are considering closing all bars and restaurants, shopping centres and schools for 14 days, to contain the spread of the virus.
In turn, Slovakia is facing one of the highest COVID death rates in the world. Hungary is also struggling, with a new record-high number of COVID-19 patients in hospitals. This country with less than 10 million inhabitants currently has over 9,800 people hospitalised, around 1,000 of them in ICUs. Budapest has warned its citizens, over the past few days, that the situation is worsening, and according to local media new restrictions may be introduced soon.
The Czech Republic is the country with the largest infection rate in the EU—over 15 per thousand in the past 2 weeks. As of March 26, small companies with up to 49 employees will have to run weekly COVID-19 tests among their staff. (tr: A.M. Popescu)
www.rri.ro
Publicat: 2021-03-17 14:00:00
Vizualizari: 623
Tipareste