WWII pilot Nadia Russo-Bossie (1901-1988)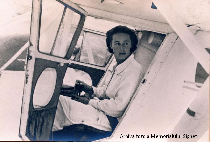 Romania's National Museum of History stages exhibition to celebrate women who fought in WWII.
Nadia Russo-Bossie was a female pilot, whose skill, knowledge and bravery helped save human lives during WWII. She was in fact born in Russia, but had emigrated to Romania in the wake of the Bolshevik revolution as part of a wave of so-called "white emigration".
In an exhibition staged by the National History Museum of Romania that pays tribute to the women who fought in the second world war, Nadia Russo-Bossie features alongside two legendary figures of Romanian aviation, Smaranda Brăescu and Mariana Drăgescu. The three of them were part of the Sanitary Squadron or the White Squadron, a unit of air ambulances piloted by women. Historian Cristina Păiușan-Nuică, who curated the exhibited, tells us more about Nadia Russo-Bossie, born Nadejda Evgenievna Brjozovska:
"Nadia Russo-Bossie was of Russian origin. She was born in 1901 and fled the country after the Bolshevik revolution, both of her parents having died by then. She fled with her sister to Chișinău, where they had relatives, and settled in Bessarabia. She wanted to become an aviator after studying in Paris, at the School of Fine Arts. In 1936, she took flying lessons with the help of sponsors, because they were expensive, and got first a licence for women pilots and then a general licence. She was part of the sanitary squadron from the very beginning."
Life had not been very good to Nadia. Her mum died in 1912, when she was just 11 years old, and her dad 3 years later in the war. After she escaped to Romania with her sister, her life took a dramatic turn, says curator Cristina Păiușan-Nuică:
"Nadia Russo had a difficult life. After fleeing Russia and before joining the sanitary squadron, she worked as a teacher and did various other jobs. She got married to a relatively wealthy man, Alexandru Russo. Being passionate about flying, she bought a plane through a public fund-raising campaign and with the help of the Romanian state. She acquired Romanian citizenship after she got married. Between 1940 and 1943 she was part of the sanitary squadron. In 1943 she had a nervous breakdown, and only flew sporadically until 1945."
Aviation remained Nadia Russo-Bossie's passion until the end of her life. An aerobatics pilot who took part in competitions in Romania and abroad and a war hero, when the war ended, Nadia had to watch helplessly as the communist regime she had fled in her youth took hold of her adoptive country, not to mention that she ended up in prison herself. Cristina Păiușan-Nuică:
"The tragedy of her life began in 1950 when she was arrested. In August that year she was accused of facilitating a meeting between British pilots from the Allied Control Commission and Romanian pilots. In 1951 she was convicted together with other pilots to 8 years in prison. She was released after five years, but was sentenced again to five years of enforced residence, being sent to live in Lățești, a village in the Bărăgan region, where she met her second husband, Gheorghe Bossie. The exhibition showcases a retirement order from 1969 where it is stated that she was to receive 325 lei per month. After writing to the Securitate asking that her five years of enforced residence be recognised as work, she received another 79 lei. Her pension now amounted to 400 lei, which was very little."
Nadia Russo-Bossie was rediscovered after the fall of communism in Romania, in 1989. Cristina Păiușan-Nuică, who curated the exhibition of the National Museum of History about women pilots in WWII, says on display are objects that used to belong to Nadia:
"On display is a photo album containing several hundred photographs which came into the possession of the National Museum of History through a series of fortunate circumstances. We also have some of her notes from May 1981 when she turned 80 and celebrated 45 years since she got her pilot's licence. The authorities of the day organised an event and asked her to make a presentation about what it was like to be a woman pilot 45 years earlier. Unfortunately, she died before 1990, her merits were not recognised while she was still alive and she never had a pension that would have allowed her a decent standard of living."
Nadia Russo-Bossie died in Bucharest in 1988, aged 87. Today, her legacy is recognised and her memory celebrated in Romania.
www.rri.ro
Publicat: 2021-07-19 14:00:00
Vizualizari: 650
Tipareste