Parliament debates over the National Recovery and Resilience Plan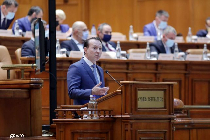 Prime Minister Florin Cîţu has presented before Parliament the National Recovery and Resilience Plan
Reforms, investment and a better management of taxpayer money are the main objectives of the Government, which will be implementing the National Recovery and Resilience Plan, known as PNRR. Prime Minister Florin Cîţu on Wednesday presented the Plan in Parliament. The 30 billion Euro allotted by the European Commission will reach every corner of Romania to recover the time lost in the last 30 years, the Prime Minister promised. Florin Cîţu said that Romania will be receiving funds that will be invested particularly in transport, education and healthcare, also to be used to carry out reforms. The Prime Minister said guarantees are needed to make sure public funds are not wasted over the coming period. Florin Cîţu:
"This plan or reform won't cut back on revenues, pensions and other apocalyptic scenarios. It's a way of efficiently administering our present-day budget, of paying higher pensions and salaries by 2030 without destabilizing Romania's finances".
PNRR is different from all the other programs run so far on European funds, Prime Minister Florin Cîţu also said. The Romanian official said it came in response to the economic fallout of COVID-19 and is focused on investments and reforms. Florin Cîţu added that investments will be implemented together with Romanian investors in particular, warning at the same time that all investment projects must be finalized by 2026, or else the European funds would be lost. The European Commission is interested in the sustainability of public salaries and pensions, Liberal leader Ludovic Orban said in turn. The co-president of the USR-PLUS alliance, Dan Barna, expressed optimism over the political support and responsibility regarding the Government's reforms. The plan has sparked discontent in the ranks of the opposition, who criticized the document and accused the Government of trying to introduce austerity measures. The Social-Democratic Party in opposition announced it would call a no-confidence vote in Parliament. PSD leader Marcel Ciolacu:
"Your proposals mean freezing incomes, increasing the retirement age and taxes for businesses and the population. You consider yourselves the apostles of transparency, but in fact you're just the trumpets of austerity".
The co-president of the ultranationalist party AUR, George Simion, in turn said that his party's MPs will support any no-confidence motion against Florin Cîţu's Cabinet. On May 31, Romania will be submitting the plan to the European Commission, and on June 2 it will be officially published. Bucharest is due to receive €29.2 billion, of which €14.2 billion in grants and €15 billion as loans. (VP)
www.rri.ro
Publicat: 2021-05-27 14:00:00
Vizualizari: 579
Tipareste