Timis County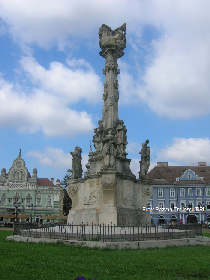 Today we stop over in the southwest of Romania, in the historical region of Banat
Today we stop over in the southwest of Romania, in the historical region of Banat. In this border area, neighboring Serbia and Hungary, there are several ethnic minorities that have left their imprint there. We will be discovering beautiful scenery, nature trails, surprising historical monuments, and ancient traditions. Timis also has a varied cuisine, and you can also discover a famous vineyard, where you can go for a wine tasting.
We begin our trip alongside Delia Barbu, executive director of the Timis County Association for the Promotion and Development of Tourism.
"Timisoara has much to offer for tourists. The effervescent, avant-garde city life offers any tourist all they could want. In addition to cultural events, we can hang out in the many parks in the city. The attraction is that the city has three major squares, very close to each other. Tourists can admire the architecture of the buildings, then they can sit down at the many beer gardens. Many museums can be visited both in the center, and the periphery of the city. The Timisoara Museum of Art is in one of the central squares, along with the Museum of Banat, and you can end with the Museum of Banat Villages, in an extraordinary place, on the outskirts of the city, but easily accessible. There are other museums too, such as the Tram Museum, a special museum part of national culture circuits. The Metropolitan Cathedral is one of the symbols of the city of Timisoara, and is a must for tourists."
There are many opportunities for accommodation, and in Timis County it is recommended that you head for the villages, as Delia Barbu told us:
"I really tell tourists that they should not make a one day visit, but set aside several, because they can find accommodation everywhere. We have a long list of activities in Timis County. If you find the city too crowded, Banat villages offer you the opportunity to spend time in beauty and tranquility. If you visit Faget Country, you can spend time in the extraordinary scenery around the waterfall of Sopot. You can traverse the forests around Costeiu accompanied by the sound of horse hooves, because there people ride in horse carts. You will also spot lots of deer, mostly in spring, but not only. You can also try navigating the road of Translucani, a winding mountain road, a recent tourist objective in the county, but you can also cycle on a trail that links Romania and Serbia, the longest asphalt trail for cyclists in our country."
Timis County is multicultural, and is an example when it comes with many ethnicities living together. This manifests itself in architecture, events, and traditional crafts. Here is Delia Barbu telling us about it:
"I would challenge you to a tour of wooden churches in Timis County, or to a tour of craftsmen in Banat. In Faget Country you can visit the teacher in Sintesti, who still teaches the art of making peasant leather shoes. You can also stop over in Sura, in Dumbrava, where the local potter can teach you his secrets. In Jupanesti, in the same area, you can meet a craftsman who still whittles with the old techniques. If you are into active tourism, you can take an electric boat ride on Surduc Lake, the largest in western Romania. If you want to cover everything, you should come here during the Banat Branch event period. These are cultural food events, which this year last all summer, every weekend, in various villages in Timis County, where you can enjoy the local cuisine and traditions. You also have the Breakfast project in Margina, but also restaurants all over Faget Country, where you can eat trout right at the fisheries."
We couldn't speak of great cuisine without speaking of wines. Here is Marius Pasca, representing Recas Vineyards, inviting you to a wine tasting in Banat:
"The vineyard has been here since 1446. We have a rich history, carried over by each generation. The Banat vineyard heritage includes tourism. We've had a tourist program since 2003. Our schedule is Monday to Friday, 9 AM to 5 PM. Even after that hour, we have wine tastings, even on weekends, for groups of tourists, with the possibility of customizing everyone's visit to Recas. Customizing includes the wines and food on the menu, and the entertainment program. A visit to Recas also includes a short visit to the store. Here, the tourists can get to know our history and our present. We visit the old cellars, then have the tasting. Here we have five kinds of wine, associated with cheeses, olive oil bread, and a set menu, if tourists want to dine. Wine is a great conversation starter, and breeds friendship. We have a great time with our visitors."
Delia Barbu, executive director of the Timis County Association for the Promotion and Development of Tourism, told us they have quite a few projects running:
"This year, we are focused mainly on hiking and cycling trails in Timis County, because it is a very popular form of tourism with domestic and foreign tourists. We are still working on our tourist brand strategy. These things prepare us for the year 2023, when Timisoara will be European Capital of Culture, and we hope we get lots of tourists to discover the richness and beauty of Banat."
Also in Banat, you can stop over in Buzad village, which has no cellular phone coverage whatsoever, so that you can have a unique experience in discovering the area. Also there, you can find the only round village in Romania, Charlottenburg, get accommodation in Altringen, and visit the Hunting Museum in the area.
www.rri.ro
Publicat: 2021-06-03 13:09:00
Vizualizari: 1092
Tipareste