Athlete of the week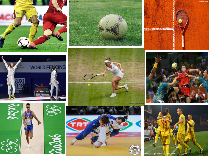 Tennis player Irina Begu
The Grand Slam tournament in Roland Garros, France, drew to a close this past Sunday. In the men's singles final, Novak Djokovic emerged as winner. However, attention-grabbing for Romanian tennis fans was the women's version of the tournament, despite the fact that the best Romanian tennis player of the moment, WTA 3rd-placed Simona Halep, did not participate in Roland Garros, since she is still recovering from an injury she sustained fairly recently. So center-stage was placed another Romanian tennis player, Sorana Cirstea, who reached as far as the round of 16, where she was overpowered by Slovenia's Tamara Zidansek. However, in the tournament's women's doubles, another Romanian, Irina Begu, was only a whisker away from playing the final. Pairing up with Argentinean Nadia Podoroska, Irina advanced to the semifinals, repeating her career-best in a Grand Slam tournament. We recall that in 2018, Begu and Monica Niculescu played the semifinals at the Australian Open.
Begu and Podoroska's trail at Roland Garros this year included a straight-set win in the first round against the all-French pair made up of Estelle Cascino and Jessika Ponchet, 6-3, 6-1 as well as a 7-5, 3-6, 6-3 win against Ens Shibahara and Shuko Aoyama of Japan. Begu and Podoroska then outclassed another all-French pair made up of Clara Burel and Chloe Paquet, 6-3, 6-1. In the quarterfinals, Irina Begu and Nadia Podoroska secured a 6-3, 4-6, 6-2 win against the Croatian-US pair made up of Petra Martic and Shelby Rogers. However, in the semifinals, Begu and Podoroska were defeated by the US-Polish pair made up of Bethanie Mattek-Sands and Iga Swiatek, 6-3, 6-4.
Irina Begu was born in Bucharest, on August 26, 1990. In 2006, Irina produced her first notable performance as she walked away with the European title in the under-16 category. In April 2011, Irina Begu played the first WTA final of her career in Marbella. Irina's run in Marbella saw the Romanian successfully fighting her way to the final, where she was defeated by Viktoria Azarenka of Belarus. Irina Begu's record includes 4 WTA women's singles titles. The Romanian won the tournament in Tashkent in 2012 and in Seoul, in 2015. Also, Begu won the Florianopolis tournament in 2016 and the tournament held in Bucharest, in 2017. As a professional tennis player, Irina Begu won nine women's doubles titles. Irina won the Hobart tournament in 2012, pairing up with another Romanian, Monica Niculescu, then went on to win the 's-Hertogenbosch tournament in 2013, when she paired up with Anabel Medina Garrigues as well as the tournament in Rio, in 2014, when she paired up with cu Maria Irigoyen. Also in 2014, Irina Begu won the tournament in Seoul, jointly with Lara Arruabarrena. In 2017, Irina Begu won the tournament in Bucharest, when she paired up with Raluca Olaru. Irina and Sara Errani won the tournament in Tianjin, also in 2017. Two other WTA titles went to Irina Begu in 2018, in China's Shenzhen, when Irina paired up with Simona Halep, and in Bucharest, when Begu paired up with Andreea Mitu. In 2019, Irina Begu won the Thailand Open, jointly with Monica Niculescu. Irina Begu is world no. 78 in the WTA singles ranking and 63rd in the doubles rankings.
(Translation by Eugen Nasta)
www.rri.ro
Publicat: 2021-06-15 13:55:00
Vizualizari: 519
Tipareste