Silver for Romanian rowing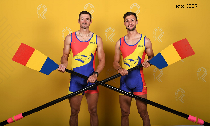 Romania has won a new medal at the Tokyo Olympics
Every new day at the Olympics seems to yield a new medal for the Romanian delegation. On Thursday morning, the Romanian men's pair made up of Ciprian Tudosă and Marius Cozmiuc scooped silver after finishing the race in second place with a time of 6.16 minutes. The Romanians were outranked by Martin and Valent Sinkovic of Croatia, who led the race from the beginning. The bronze medal went on Frederic Vystavel and Joachim Sutton of Denmark. After the awards ceremony, Criprian Tudosă told the media:
"It was a beautiful and hard race. It was the final. We are very happy with this result, and this Olympic cycle ended well for us, I might say".
In turn, Marius Cozmiuc had this to say:
"We will see what the future has in store for us. We hope we will do better, and the men's four crew as well, and the girls. We hope the whole team gets goods results".
Also on Thursday, Ionela Cozmiuc and Gianina Beleagă ranked 6th in the A finals of the women's lightweight double-scull event. Two-time world champions in 2017 and 2018, Ionela and Gianina were out of pace in the race, and failed to secure a medal. On Friday, the women's eight crew will also compete in the A final after setting a new world record in the repechage, 5.52 min
utes. Until then, the men's pair performance is all the more notable, considering that Romania's last medal in men's rowing dates back to 1992, in Barcelona. Back then, the Romanian men's four won gold, the men's eight scooped silver, and the men's double-scull walked home with bronze. A long period of subpar results followed, but recently, things have improved significantly, particularly after the Romanian Rowing Federation brought in a coach from Italy. Antonio Colamonici has been training the men's rowing team for the last three years, and the women's team in the last year. Let us further note that in swimming, David Popovici ranked 7th in the 100-meter freestyle final, finishing the race in 48.4 seconds. The gold went to Caeleb Dressel of the United States, who also set a new Olympic record. Popovici's best result at Tokyo remains his 4th place in the 200-meter freestyle final, when he came very close to scooping bronze. On Friday, David Popovici will perform in the 50-meter freestyle qualifying round. (VP)
www.rri.ro
Publicat: 2021-07-29 14:00:00
Vizualizari: 359
Tipareste