European law versus national law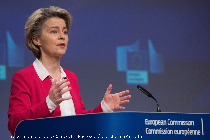 On Tuesday Poland denounced in the European Parliament the pressure exerted by Brussels and the use of double standards, while the European Commission threatened Warsaw with sanctions.
Heated debates were held in the European Parliament on Tuesday, following the decision of the Polish Constitutional Court, which called into question the precedence of EU law over national law. European Commission President Ursula von der Leyen has warned that the EU executive will act to defend the Union's 'common values'. "I am deeply concerned. This decision calls into question the foundations of the European Union. It is a direct challenge to the unity of the European legal order", said the head of the EC. She went on to say that, in this situation, three options might be considered: to open new infringement procedures, to launch a new protection mechanism to suspend the payment of funds to Warsaw, and to resort to the procedure in Article 7 of the EU Treaty which could deprive Poland of the right to vote. Most MEPs said that all countries in the Union voluntarily agree on common rules when they join the Union and insisted that, in fact, there is no conflict between the legal order of the EU and the Polish Constitution. On behalf of the Slovenian EU presidency, the Slovenian Foreign Minister Anze Logar said that the precedence of the EU law is the foundation of the Union and the basis for living together in a European community.
Attending the debates, the Polish Prime Minister, Mateusz Morawiecki, pointed out that the precedence of the EU law does not extend to the constitutional system, and that the Polish Constitution is above any other principle of law. He said that Poland rejects the EU's 'blackmail', and said that, for his country, the Constitution remains the 'supreme law'. He emphasized the "differences" that the EU makes between member states and stressed that Poland does see "the division between strong and weak countries, new and old countries". On the other hand, the official insisted on Poland's will to continue to be part of the European Union. Warsaw has been in an open conflict with Brussels for several years over controversial reforms made in the judiciary that were implemented by the right-wing populist party Law and Justice.
The conflict has recently culminated with a ruling by the Polish Constitutional Court on October 7, which declared certain articles in the EU treaties "incompatible" with the country's constitution. The BBC writes that according to opinion polls, more than 80% of the Poles are in favor of Poland's EU membership, primarily because EU membership gives them the freedom to travel and work in the Member States, access to the single market and to the Union money. According to the BBC, more and more Polish citizens, especially against the backdrop the Warsaw-Brussels dispute, have begun to share the Polish government's view that Brussels is overstepping its powers and responsibilities. (LS)
www.rri.ro
Publicat: 2021-10-20 13:50:00
Vizualizari: 391
Tipareste