Back to school!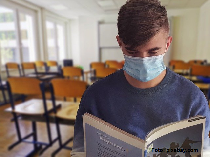 Nearly 70% of the undergraduate schools in Romania are reopening
Nearly two-thirds out of the over 3 million students and pre-schoolers in Romania are returning to schools on Monday, after a 2-week break triggered by the COVID 19 pandemic.
Face-to-face teaching is resumed in schools where at least 60% of the employees are vaccinated against the virus, while the other schools carry on classes online. The Students' Council says schools are not ready to resume on-site classes, and call on the authorities to also take into account the local infection rates, the healthcare infrastructure, the testing capacity and the means to ensure physical distancing.
The coordinator of Romania's vaccination campaign, Valeriu Gheorghiţă, admits that the measure would prompt a rise in infection risks, but argues that children need face-to-face classes and adults should make an effort to ensure that children are safe in schools.
Valeriu Gheorghiţă: "I believe it is a duty for us, for the adults, to make sure our kids are safe in schools. How can we do that? By complying with health and hygiene rules, by explaining these rules to the kids, by getting the vaccine. I believe this is the way for us to gradually become able to control and contain the effects and consequences of this pandemic. Yes, resuming on-site classes definitely entails additional risks in terms of the number of infection cases, but what we must keep in mind is a balance between the epidemiological status and the benefits and losses for our children during this period."
In turn, the interim education minister Sorin Cîmpeanu says that although controversial, the new conditions for reopening schools have been effective and encouraged teaching staff to get the vaccine:
Sorin Cîmpeanu: "The reports for Friday, 29th October, indicated that 54% of public and private schools had a vaccination rate of over 60% and may resume face-to-face classes. By Friday, 5th November when we updated all data for all the schools in Romania, there was an increase from 54% to 68%, so the measure worked. Several inspection teams from the Education Ministry will conduct on-site checks to see the extent to which protection rules are implemented, and also to check the accuracy of the reported vaccination rates. This is a compromise solution, it has its flaws, but at the end of the day this criterion ensures a safer environment for students and teachers, it protects teachers the most, because according to physicians vaccinated people don't get infected and don't pass on the virus as easily as the non-vaccinated."
To make up for the lost time during this school break, the Education Ministry amended the structure of this school year and shortened the winter holiday for middle schools and high schools. (tr. A.M. Popescu)
www.rri.ro
Publicat: 2021-11-08 14:00:00
Vizualizari: 674
Tipareste