New Year's Eve in Romania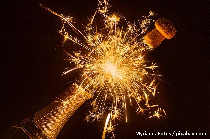 As opposed to previous years, the passing of the year between 2021 and 2022 will not be marked by music shows and fireworks
As opposed to previous years, the passing of the year between 2021 and 2022 will not be marked by music shows and fireworks all over Romania. People are mostly booking retreats in nature retreats, far from the bustling crowd. There are still offers to spend New Year's Eve in the streets, at events held by the local authorities in Iasi, Constanta, or Craiova. At the same time, the cities of Cluj, Baia Mare, and Suceava will only have fireworks.
Private operators have managed to adapt to the conditions imposed by COVID-19, according to Traian Badulescu, tourism consultant.
"All over Romania, we celebrate the coming of the new year with a richness of traditions. I remember that about six or seven years ago, an international company made a study about the hour up until which celebrations are being held in a few countries. First place was Russia, second was Ukraine, and third was Romania, which ran up until 4:30. Romanians are eager to party, and not every place has traditions such as here. The good news is that right now, just as I expected, antigen and PCR tests are admitted. In really counts, because not all Romanians are vaccinated."
The question remains: Where do we spend New Year's Eve. The answer is that tradition prevails, and people flock to their usual places for fun. Here is Traian Badulescu:
"In the countryside, for instance, aside from the fact that tourists can take advantage of the special natural environment, they can also take rides on horse drawn sleighs, and can attend small traditional festivals. In terms of rural tourism, tourists can witness local traditions. There are many areas that are set up for rural tourism, such as Bran Moeciu, Marginimea Sibiului, Maramures, Bukovina, Oltenia, Neamt, and so forth. Romania has very well developed mountain resorts, such as Poiana Brașov, Sinaia, Predeal, Păltiniș, Borșa in Maramureș, Slănic Moldova, and Vatra Dornei. At the same time, high altitude spas are very popular, such as Băile Felix, Băile Herculane, Sovata, and Balvanyos. Most of the hotels are high quality, and the resorts have great natural landscapes, in the mountains or hills, with clean air, where all tourists have access to spa services. At the same time, prices are great. It is a myth that Romania is very expensive. Of course, there are hotels in Poiana Brasov where the New Year's Eve holiday costs thousands of Euro, which includes flamboyant shows. However, most hotels do not cost that much, and there are plenty of offers for all pockets. Offers start from 500 to 1,000 lei, and may range up to 1,000 Euro per person."
We also contacted Dan Buru, a cultural consultant for the spa of Baile Herculane:
"Our resort of Baile Herculane has a variety of offers. It is a mountain spa, which celebrates the new year every year, and this year is no exception. We have a wide variety of tourism offers and accommodation, from private homes to B&Bs, to five star hotels, from a couple of rooms to hotels with 500 rooms. We have a great variety of entertainment for the guests. For instance, a four star hotel has a show held by pop star Anca Turcasiu who will throw a great party with Iulia Dumitrache Brad. Another hotel booked a show by Ora and Stefan Stan, with lots of surprises. By contrast, another hotel will have a show with folklore from the region of Banat."
Advertised prices by tourism agencies are between 280 and 980 Euros. In the offer there are three meals a day, and the higher price packages include shows, the end of year meal, and spa access.
We asked if, given the conditions nowadays, we can still spend New Year's Eve in the street:
"If we observe basic rules, disinfecting and wearing masks, there cannot be much of a problem. Romania right now is the country in Europe with the lowest number of infections, even if two months ago it was in the red zone. At the same time, it has a generous offer for people who want to spend the holidays outdoors, with COVID-19 rules being observed in accommodation units. In the end, we have to remember that tourism is about mental and physical health. People cannot just keep being stuck at home, if they observe the rules."
No matter where you choose to spend the passing of the year, you can schedule a variety of activities for the first days of the upcoming year, such as skiing and visiting tourist objectives. Traian Badulescu, tourism consultant, worked for three years now with the Municipal Tourism Company of Bucharest. We asked him what was the general impression left on tourists by their trip to Romania:
"We have an information center downtown, and had loads of foreign tourists. Everybody was pleased with what they say in Bucharest, in the Prahova Valley area, and Romania in general. For instance, I recall an Australian person whose first contact with Europe was Romania. Unfortunately, that was not due to promotion. They had found out about the country online. We asked all the tourists what bothered them, and they couldn't come up with anything, although a few said that they would have liked to see more restored old buildings. One of the leaders in the area of foreign tourism told us a few years ago that he can see in Romania the highest difference between expectations and satisfaction. Unfortunately, expectations are still low, because we are unable to promote ourselves properly, but satisfaction is very high."
That being said, Romania may be the ideal destination for spending New Year's Eve if everyone observes at least the basic rules to prevent the spread of the pandemic virus.
www.rri.ro
Publicat: 2021-12-30 13:29:00
Vizualizari: 901
Tipareste