THE WEEK IN REVIEW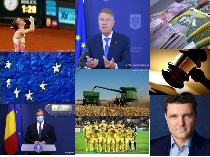 January 10-14
New measures to combat the pandemic
The incidence of COVID-19 infections in Bucharest and major cities in Romania, counted over 14 days, has exceeded 3 cases per thousand, which triggers the red scenario. As a result, occupancy in restaurants and cafes is only up to 30% of capacity, according to a decision adopted by the Local Commission for Emergency Situations. Public places will be functioning only between 17:00 and 22:00. Access is permitted only for people who have had the vaccine against the virus, 10 days past the date of full vaccination, people who have a negative PCR test not older than 72 hours, or a rapid antigen test that reads negative, not older than 48 hours. Also acceptable are people who are between the 15th and 180th day from a novel coronavirus infection.
A new case of fake vaccination
Five people have been detained after 25 searches conducted in the counties of Neamt and Iasi by anti-corruption police in a case involving fraud and corruption related to fake certificates for vaccination. According to police sources, three physicians, one nurse, and a go-between are in custody. The investigation is aimed at illegalities that commenced in mid-2021, with complicity from physicians and nurses in the two counties. They are alleged to have received bribes to issue vaccination certificates for people who were not inoculated. Late last year, anti-corruption prosecutors announced that since the pandemic broke out two years ago, they have initiated 168 criminal investigations for fraudulent health documentation. According to the source, Romania has the widest range of investigations among EU states, considering the over 3,000 fake certificates issued in Vama Petea by healthcare workers. Since the start of the pandemic, Romania has registered 1.8 million COVID cases, and about 60,000 people diagnosed with the virus have passed away. Against the background of a wave of anti-vaccine propaganda, perpetrated by some media channels, some politicians, and some influencers, Romania has the second lowest rate of vaccination in the EU, after Bulgaria.
The energy crisis
Romanian Minister of Justice Catalin Predoiu called on general prosecutor Gabriela Scutea to run an investigation into the explosion in consumer prices for electricity. He called for every measure to be taken to uncover, prevent, and combat effectively any type of crime related to excessive billing of consumers. He wants action to be taken against fraud, abuse of office, unfair competition, and organized crime. Energy Minister Virgil Popescu announced publicly that citizens who think they are being billed unfairly to get in touch with their suppliers, and, in case they are not satisfied with the response, to appeal to the National Energy Regulatory Agency. The minister accused suppliers of unfair practices. They in turn blamed politicians, blaming the unclear language of the legislation on limits on energy prices. The national agency specified that dozens of companies, mostly electricity and natural gas providers, have been investigated.
The central bank and inflation
Romania's National Bank raised the reference interest rate from 1.75% to 2% per year, and announced it would maintain an firm grip on liquidity on the monetary market. This is the third consecutive session for the bank's management aimed at raising the reference rate, in an attempt to keep inflation under control, which is rising faster than expected. Experts with the central bank estimate that soon banks will also raise interest rates for consumer and business loans, as well as for deposits, the latter's rates continuing to be very low.
European recovery money
On Thursday, the Romanian state received over 1.9 billion Euro, which is a preliminary payment on the loan granted to Romania as part of the National Plan for Recovery and Resilience, in view of the fact that the country has reached its fourth quarter aims for 2021, according to the Ministry for Investments and European Projects. The source informs that this amount comes in addition to the first installment of the pre-financing, in the grant component, paid by the EC on December 2, 2021, worth 1.85 billion Euro. The recovery plan was implemented on November 3, 2021, worth a total of 3.79 billion Euro available to Romania. The final grand total offered to the country is 29 billion Euro to run the recovery program. This very advantageous loan program will be used to finance large scale projects in Romania, such as hundreds of kilometers of motorways, tens of thousands of homes with full amenities, digitization of thousands of SMEs, and planting dozens of thousands of hectares of forests.
Romania aiming for world handball
Romania's national men's handball team has qualified for the second stage of the preliminaries for the World Championship in 2023, after defeating the Moldovan team, 33 to 23, on Sunday night, at home in Cluj. This was the last game of Group 3 preliminary stages. In the previous games in the group, Romania bested Israel 33 to 30, and the Israelis in turn defeated Moldova 42 to 31. Romania comes in first, with 6 points, Israel follows with 4, Moldova is next with 2 points, while Cyprus has zero. The team from Cyprus cut out of the competition because of a COVID outbreak, and lost all the green table games by 10 points. The first two teams qualified for the second stage of the preliminaries. Romania's national squad, four times world champtions, took part in 14 editions of the men's world championships, the last time in 2011.
www.rri.ro
Publicat: 2022-01-14 14:08:00
Vizualizari: 829
Tipareste