Romania increases refugee assistance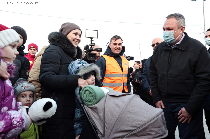 Romanian authorities prepare to receive growing refugee inflows
Over 3 million people have so far fled Ukraine because of the war. The figure only includes those who left the country after the invasion of Russian forces on February 24, but not the ones displaced within Ukrainian borders.
Almost half of the nearly 3 million refugees are children. Poland has received the largest number of Ukrainian nationals-some 1.8 million, while other destinations for those who run away from the war are the Republic of Moldova and Romania.
About half a million Ukrainian citizens chose to come to Romania, but most of these only transited the country on their way to Western Europe. But as the Russian invasion continues, Bucharest is preparing to handle an ever-growing number of refugees.
The government announced plans to set up another 2 hubs for collecting and transporting humanitarian aid for Ukraine, apart from the one already operating in Suceava (north-east). One of them will be located in the north-west of the country, in Sighetu Marmaţiei, and the other one in the south-east, at Isaccea, on the river Danube. Both localities are checkpoints on Romania's border with Ukraine.
PM Nicolae Ciucă Tuesday travelled to Isaccea, and announced that 2 more ferries may be brought in, to help the refugees cross into Romania more efficiently:
Nicolae Ciucă: "On the other side of the border there are many Ukrainian citizens waiting to leave the country, so we discussed options for transport and processing in case their number goes up. It is clear that with only one ferry we cannot ensure smoother crossing, so we talked to the transport ministry and found out that there are back-up ferries in Galaţi that may be used in order for us to ensure a higher crossing rate."
While in Romania, Ukrainian refugees have access to all the healthcare services and programmes available to Romanian citizens. A total of 3,300 places are available nation-wide for the injured and for the refugees who need surgery.
In the capital Bucharest, the North Train Station has become one of the most important aid centres for the refugees. For almost 2 weeks now, many Ukrainians have been coming here by train, with no idea where to go next. They are helped by City Hall staff and volunteers, who provide them with food and temporary accommodation options.
In fact, a survey indicates that over half of Romania's population has already got involved in assistance and relief programmes for the Ukrainian refugees, and more than 8 in 10 Romanians believe Romania has been pro-active in this respect.
Special mention must also be made of the non-governmental sector, which initiated new campaigns or adjusted ongoing programmes in order to help those in need. "The promptness with which Romanians and Romanian associations and organisations have mobilised since the start of the war in Ukraine, to provide transport, accommodation and translation services, is admirable," reads the survey, which also says, on the other hand, that 55% of the Romanians voice pessimism regarding the future and safety of neighbouring Ukraine. (A.M.P.)
www.rri.ro
Publicat: 2022-03-16 14:00:00
Vizualizari: 488
Tipareste