PROUD Romanian language school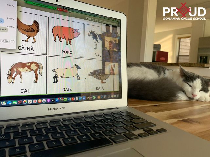 PROUD is a platform for cultural and educational activities for children in Romanian communities abroad.
Romanian cultural institutes in major cities around the world, Romanian embassies and churches routinely organise classes, weekend schools or various recreational activities that focus on the Romanian language and address children from Romanian communities abroad. But the school we are looking at today is special in that it brings together people from all parts of the world who are interested in learning Romanian or in refining their Romanian language skills. And this is only possible online.
Delia Pavel has been living in New York, USA, since 2019. Two years ago, she had this initiative which she describes as being born on American land but having deep Romanian roots:
"In Romania, I used to work in the independent theatre sector and in organising cultural and educational activities for children and adults. I chose to move to the US, and when I arrived my plan was to do the same activities for the Romanian children in the Romanian communities in the state of New York, where I live. But then the pandemic came, and we had to rethink the entire programme for the online medium. We had set out to organise activities in Romanian exclusively, but it turned out that children were speaking very little Romanian. Even with families who speak Romanian at home, children speak only English at school, so they forget their native language, and when they go home they answer their parents in English, their parents start using English with them as well, so kids are less and less exposed to the Romanian language."
This is how PROUD school was created, as a platform for cultural and educational activities targeting children in the Romanian communities abroad and in mixed families in the diaspora. Here is the founder of the school, Delia Pavel, with more details:
"The online medium has given us a chance to expand to many other countries. So far we have trained over 200 children, and thanks to the original method used by our teachers, who use games and play and who focus on personal development and on improving self-esteem, children are delighted to take these classes. So actually we are more than just a Romanian language school. We try and we manage to make kids proud of their Romanian roots, to encourage them to find out more about Romania, to read books in Romanian, to make friends in other countries, united by this strong, although invisible connection which is our Romanian background."
Children from the United States, Canada, Australia, Denmark, Germany, Great Britain, the Philippines, Egypt, Nigeria and Dubai have already enlisted for the courses provided by PROUD. The courses themselves, which are targeted for different age groups and levels of Romanian are held by Romanian language teachers in the case of children who want to learn Romanian from zero and by actors for those who only wish to improve their Romanian.
Anca Manolescu is an actor, script writer and acting teacher who is part of PROUD's team. She told us how she works with the children who signed up for the online courses to learn or improve their knowledge of the Romanian language:
"I'm employing a number of methods that I, myself, have only recently learnt when I began to learn this new profession. Everything is held online, so I'm using personal development games that are also used in acting. The children are between 4 and 13 years old, so you can imagine that the methods vary a lot depending on their age, and I also have to take into account their level of Romanian and their personality, etc. We do speech games, I teach them poems that I'm very fond of and that I myself learnt when I was growing up, from poems written by Romanian poets to children's rhymes and which I believe can help children not only learn Romanian but also get a feel of how children play here, in Romania. It's important they also learn something about how we, in Romania, live, from the food we eat here to colloquial language, how we speak to friends or what type of language we use in more formal situations. I'm happy to see the children respond to these things and to be able to recite a poem or tell them about my own childhood or teach them words for trees that don't grow where they live, like the name of a wild apricot tree that you only find here."
The initiator of the PROUD school Delia Pavel says the enthusiasm of the children who attend the courses and their parents' content with their progress make her think the project was a good idea and that it should go on.
www.rri.ro
Publicat: 2022-08-10 14:00:00
Vizualizari: 822
Tipareste