Sports Flash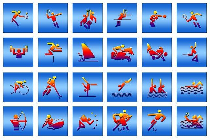 News from athletics, fencing, tennis
The Romanian athlete Alin Firfirică came out 7th in the discus throw finals of the World Athletics Championships hosted by the US city of Eugene, Oregon. Firfirică's throw was 65.67 m, his best performance this season. The gold medal went to Kristjan Ceh of Slovenia, who broke the World Championships record with 71.13m. In the women's high jump event, Romania's Daniela Stanciu ranked 10th, with 1.93m, the same result she had in the qualifying round. The world title went to Australian Eleanor Patterson, for a 2.02m jump.
Romania's women's epee team, made up of Greta Vereş, Alexandra Predescu, Cristina Constantinescu and Bianca Benea, came out 11th on Wednesday in the World Fencing Championships in Cairo. In the men's sabre event, Romania's team, comprising Iulian Teodosiu, Răzvan Ursachi, George Dragomir and Codrin Cozmuleanu, lost to Turkey in the very first round and ranked 17th at the end of the competition. Romania has so far won 2 bronze medals in Cairo, both of them in individual events, thanks to Iulian Teodosiu in the sabre competition and Maria Boldor in women's foil.
The Romanian tennis player Irina Begu managed to qualify in the quarter-finals of the WTA 250 tournament in Palermo, with EUR 203,024 in prize money. On Wednesday she outplayed Océane Dodin of France, 1-6, 6-2, 6-4, in a match that ended almost at midnight. Begu, seed no. 6, won the match after 2 hours and 4 minutes. The 2 athletes had played twice before, with one win each. The French player won the 2019 Wimbledon second round match, while Begu beat her in the first round of this year's Australian Open. For her performance in Palermo, Irina Begu receives 60 WTA points.
The 2-times swimming world champion David Popovici and his coach, Adrian Rădulescu, were decorated by president Klaus Iohannis on Wednesday in a ceremony held at Cotroceni Palace. The head of state awarded the swimmer the "Star of Romania" National Order for his performance at the World Swimming Championships in Budapest this June. (AMP)
www.rri.ro
Publicat: 2022-07-21 13:50:00
Vizualizari: 410
Tipareste