Sports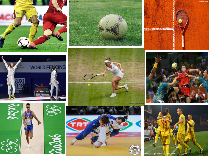 The latest from sports
The Romanian tennis player Irina Begu won the WTA tournament in Palermo, with more than 200,000 euro in prize money. In the final, on Sunday, she beat the Italian Lucia Bronzetti, 6-2, 6-2. The Romanian thus added the fifth WTA title in her career, after the one she won five years ago, in Bucharest. For the success in Sicily, Begu was rewarded, according to Agerpres, with 26,770 euros and 280 WTA points. At last year's edition in Palermo, the Romanian Elena-Gabriela Ruse was defeated in the final by the American player Danielle Collins. Until Sunday, the only Romanian player who had won the Palermo tournament was Irina Spârlea, in 1994 and 1995.
The World Fencing Championships ended in Cairo on Saturday. The Romanian athletes won two bronze medals, both in individual competitions. Iulian Teodosiu calimed the third step of the podium in saber, and Maria Boldor, in foil.
The World Athletics Championships ended on Sunday, in Eugene, in the American state of Oregon. Romania was represented by 8 athletes, of which four in the male and four in the female competitions. Bianca Ghelber ranked sixth in hammer throw, Alin Firfirică came in 7th in discus throw, and Daniela Stanciu ranked tenth in the high jump event.
Games counting for the second stage of the Romanian Football Superleague were held this past weekend. On Friday, Farul Constanța defeated away from home CS Mioveni, 2-0. On Saturday, also in Mioveni, FC Botoșani beat FC Voluntari 1-0. Four games were played on Sunday. Sepsi Sfântu Gheorghe beat FC Argeș 4-0 at home, FC U Craiova won on home turf the match against the champion, CFR Cluj, 3-1. In Mediaș, Universitatea Cluj and Universitatea Craiova ended in a draw, 1-1. Finally, in the derby, in Bucharest, Rapid beat FCSB 2-0. The last two matches of the stage are to be held on Monday. Chindia Târgoviște with FC Hermannstadt and UTA Arad with Petrolul Ploiești. Farul and FC Botoșani lead the ranking, the only teams with 6 points out of 6.(MI)
www.rri.ro
Publicat: 2022-07-25 13:45:00
Vizualizari: 474
Tipareste