Sports Flash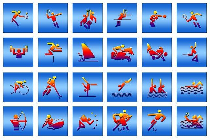 The latest involving the participation of Romanian athletes in top international competitions
Romanian athletes are attending several championships presently underway in Europe. Italian capital Rome is these days hosting the European Aquatics Championship and Romanian swimmer David Popovici is the odds-on favourite in the 100 and 200 meter free-style races, where he is world champion. Popovici will also be competing in the 400 meter free-style race and in the 4x100 meter relay race.
Until August 21st, Munich in Germany is hosting the multi-sport European Championships, which is to include competitions in several disciplines such as athletics, beach volleyball, kayak-canoe, cycling, rowing, artistic gymnastics, bouldering, table tennis and triathlon. Romanian athletes stand good chances to win medals in rowing and kayak-canoe competitions. Defending European champions, the Romanian double scull team made up of Ancuta Bodnar and Simona Radis stands good chances to win a medal in the aforementioned the competition and so does the Romanian eight, winner of the latest European Championship hosted by Italy.
We also recall that the Romanian rowers of the men's four and eight walked away with silver medals from the Italian competition and so did our women's double. In the lightweight women's single scull race, where Gianina Beleagă is the European vice-champion, Romania is being represented by Ionela Cozmiuc, as Beleagă has become part of the Romanian four and eight in the same competition.
Cătălin Chirilă stands good chances to win a medal for Romania in the 500 and 1000 meter canoe single races as one week ago he reaped a world title in the 1000 meter race and a silver medal in the 500 meter race in Halifax, Canada. His prize closed also includes a gold medal he won together with Victor Mihalachi in 1000 meter race of the European Games in Minsk and a bronze one with the same team mate in the latest edition of the European championships hosted by Poznan in Poland.
A delegation of 20 athletes is representing Romania at the European Gymnastics Championships. We recall that Romania won silver at the European championships in Mersin Turkey in 2020. Larisa Iordache won gold in the beam and floor events and silver in the vault event. In the same competition Romania's junior team obtained gold in all the events as well as in the team competition.
Ana Maria Bărbosu won five medals in various events of the aforementioned competition while Maria Ceplinschi won silver in the individual all-round event and the floor event and Andreea Preda walked away with bronze from the beam event. In the men's competition only one medal for Romania in Turkey. Gabriel Burtanete won gold in the vault event of the junior competition.
(bill)
www.rri.ro
Publicat: 2022-08-11 13:45:00
Vizualizari: 493
Tipareste