Sports Roundup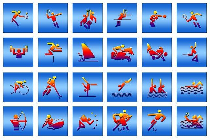 Click here for the latest in sports
For a long period of time, the Romanian sport has not seen days as rich in performances as the last weekend. The gold medals won by the swimmer David Popovici and his new world record at the continental championships in Italy somewhat overshadowed the results of the Romanian athletes who won medals in Munich, at the European Multisport Championships.
Most medals were won by the Romanian rowers, who returned home with five gold and three bronze medals, this being the best result in the history of Romanian rowing in the European competition. Gold medals were won by Ioana Vrînceanu and Denisa Tîlvescu in the women's pair and by Marius Cozmiuc and Sergiu Bejan in the men's pair. In the double scull event, the Olympic champions Ancuța Bodnar and Simona Radiș reconfirmed their supremacy. In the single scull event, the light category, Ionela Cozmiuc won gold. The last gold medals were brought by the women's coxed eight crew, including Magdalena Rusu, Iuliana Buhuş, Ancuța Bodnar, Denisa Tîlvescu, Mădălina Bereş, Amalia Bereş, Ioana Vrînceanu, Simona Radiş, and coxswain Adrian Munteanu. Bronze medals were obtained in the women's four, men's four and men's quadruple sculls.
At the European Women's Gymnastics Championships, the juniors stood out with two gold, two silver and two bronze medals. Sabrina Voinea won the gold in the vault event, and Amalia Puflea in the floor event. Silver medals were won in the all around team and individual competitions, through Amalia Ghigoartă. Amalia Puflea won bronze in the beam final, and Sabrina Voinea also got bronze in the floor event. In the seniors' competition, the best result was the 4th place taken by Ana Bărbosu, in the floor event. This week the men gymnasts will enter the competition.
At the European Table Tennis Championships Ovidiu Ionescu and Bernadette Szőcs won silver medals. The Romanian pair was very close to winning the gold, but lost the mixed doubles final to Emmanuel Lebesson/Jianan Yuan from France.
Now news from football. From Friday to Monday, matches of the fifth stage of the Romanian football Super League were played. On Friday, FCU Craiova defeated FC Argeş, away from home, 2-0. On Saturday, in Arad, UTA defeated Universitatea Cluj 2-1, and in Ploieşti, Petrolul won the traditional derby with Rapid Bucharest 1-0. On Sunday, Universitatea Craiova won 1-0 at home the match against CS Mioveni, FC Botoşani defeated CFR Cluj 1-0 away from home, and FCSB defeated Chindia Târgovişte 3-2 in Bucharest. The two games played on Monday, namely FC Voluntari with Sepsi Sfântu Gheorghe and Farul Constanţa with FC Hermannstadt, ended in a draw: 0 all. FC Botoşani leads the standings, with 11 points, being followed by four teams with 9 points each: Hermannstadt, Farul, CFR and Rapid. (LS)
www.rri.ro
Publicat: 2022-08-16 13:45:00
Vizualizari: 461
Tipareste