Government prepares new social measures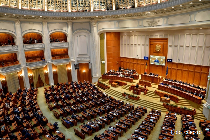 Romania's coalition government is launching a new package of social and economic measures.
The government's emergency order capping energy prices is debated by the Senate's specialist committees. The document will most likely undergo changes, given that MPs from both the ruling coalition and the opposition have submitted a number of amendments. The leader of the Social Democratic Party Marcel Ciolacu gave further details about the areas to benefit from capped energy prices:
"We have already agreed changes for religious establishments, public services, water companies and transport companies and taking into account that the medicine prices are capped for companies making generic medicines. Unless we step in, those medicines will disappear from the Romanian market."
The Save Romania Union in opposition proposes that prices be capped depending on consumption, taking into account current monthly levels and not last year's. MP Cristina Prună:
"We proposed an amendment whereby the price is capped at 0.68 lei per kWh for the first billable 100 kWh, 0.8 lei per kWh for consumption between 101 and 255 kWh, and the price in the contract to apply for consumption exceeding 255 kWh."
The Force of the Right Party, an opposition Liberal splinter group, is warning that one of the measures in the government order that needs to be changed is the return to a consumption ceiling of 300 kWh instead of 255 as the government has proposed.
The energy minister Virgil Popescu says the order also encourages energy saving. Referring to the excessive bills presented by the media, he said the situation must be verified by the relevant authorities. The final report on the government order will be made public next week, with the Chamber of Deputies having the decisive vote. In another move, the parties in the ruling coalition have agreed to extend fuel subsidies by the end of the year, Marcel Ciolacu has announced.
Labour minister Marius Budăi says his ministry has begun talks with social partners, employers and trade unions to increase the minimum wage from next year. This is the result of a directive adopted by the European Parliament regarding the minimum wage in the Union, under which member states are obliged to ensure decent living to their workers. The minister also said pensions may go up by at least 10% from 1st January next year. Concrete talks will be held when discussing next year's budget, which the government plans to submit to Parliament in November. (CM)
www.rri.ro
Publicat: 2022-09-21 11:42:00
Vizualizari: 535
Tipareste