September 22, 2022 UPDATE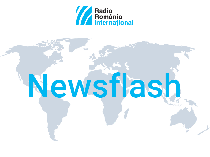 A roundup of local and international news.
Energy. Romanian prime minister Nicolae Ciucă on Thursday hosted a meeting of energy ministers in the region who attended the Romanian International Gas Conference in Bucharest. Talks focused on consolidating cooperation with the participating countries to ensure energy resources and find the best solutions to strengthen the energy security of all participating countries. The meeting also looked at ways to diversify energy sources and supply routes to overcome the current energy crisis. The conference was attended by officials from Romania, the Republic of Moldova, Greece, Azerbaijan, Bulgaria, Turkey, Ukraine, Hungary and Georgia.
Reaction. Romania's Foreign Minister Bogdan Aurescu has firmly condemned Russia's latest actions, including to call a partial mobilisation and "illegal" referendums in the occupied regions of Ukraine. According to Bogdan Aurescu, the decisions are in breach of the independence, sovereignty and territorial integrity of Ukraine and international law, including the UN Charter.
Moldova. The International Monetary Fund has greenlighted the disbursement of 27 million US dollars to the Republic of Moldova, hailing the progress made by Chișinău in the field of fiscal governance and the fight against corruption. Total IMF aid to Moldova currently stands at 242 million dollars. This is part of a broader assistance package worth 800 million dollars, which Chișinău can access over the course of 40 months, provided it fulfils certain milestones agreed upon with the IMF. The Fund says the fallout from the war in Ukraine continues to affect the prospects of this ex-Soviet state with a majority Romanian-speaking population and has recommended Moldovan authorities to maintain an appropriate policy mix going forward, given present inflationary pressures and budget financing constraints. Moldova was awarded EU candidate status in June.
Drought. More than 630 thousand of hectares of farmland have been affected by drought in Romania, in 37 counties and the capital city, according to the latest report from the ministry for agriculture and rural development. The autumn crops worst hit by the drought are: wheat, triticale, barley, rye and rapeseed, while the worst hit spring crops are maize, sun flower, soy and fodder plants.
Covid-19. Romania on Thursday reported a little over 1,300 daily Covid cases and 12 related fatalities. 123 Covid patients are in intensive care and 1,400 are receiving hospital treatment, including 134 children.
Football. Romania's national football team on Friday will be playing Finland away from home in a match counting towards Group 3 of Europa Nations League. On Monday, Romania will go up against Bosnia and Herzegovina at home in their final group match. The local media have been speculating that this could be manager Edward Iordănescu's last match at the helm of the national side, owing to his poor results this season. Romania are bottom of the group tables with 3 points, after Finland, Montenegro and Bosnia and Herzegovina. (CM)
www.rri.ro
Publicat: 2022-09-22 20:00:00
Vizualizari: 320
Tipareste