The Colectiv fire – 7 years on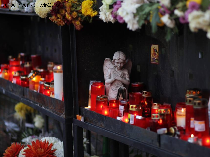 The tens of victims of the Colectiv fire seven years ago were commemorated on Sunday in Bucharest.
On October 30 2015, during a rock concert at the Colectiv night club in Bucharest, a fire broke out caused by fireworks that were not properly handled. The fired expanded quickly and 64 young people were killed during or in the aftermath of the tragic accident. They were commemorated at the site of the club on Sunday and three NGOs held a march between the club and the Prosecutor General's Office to warn that the investigation did not go far enough and that not all those guilty are paying for their actions.
The representatives of the NGOs and the victims' families say attempts were made to distract the public from the fact that the state of hospitals and the decisions made by the authorities were responsible for more victims than the fire itself. They also say that the problem of the healthcare system, of the beds and hospitals for fire victims and of infections acquired by patients in hospital care is far from being solved. Moreover, public spaces, including schools, are still allowed to remain open despite not ensuring protection against fire and emergency situations. Healthcare minister Alexandru Rafila said including cases of hospital-acquired infections when assessing the activity of hospital managers will help shed more light on the situation of the healthcare system. He said such infections occur not only in Romania, but admitted that their frequency here is much higher compared with other countries.
It took six years and a half for the courts to issue final sentences in the Colectiv case and for those responsible for the biggest peace-time tragedy in Romania to end up behind bars. Cristian Popescu Piedone, the former mayor of Bucharest's sector 4 and who in the meantime had been elected mayor of sector 5, was sentenced to 4 years in prison for abuse of office. The club owners received between 6 and 11 years and 8 months. On trial in this case were also the two members of the fire service of the Bucharest Inspectorate for Emergency Situations who made checks at the nightclub but who did not take the legal measures with respect to fire protection. They were sentenced to 8 years and 8 months in prison. The firework technicians on trial were sentenced to 6 years and 10 months each. The final sentences were generally shorter than those issued in the courts of first instance. The Court of Appeal ruled that some of those convicted should pay damages of tens of millions of euros to the survivors and the victims' families.
There was also a political consequence in the immediate aftermath of the fire: the large street protests under the slogan Corruption Kills held at the time led to the resignation of the then government. This was, however, not enough to move things decisively onto the path of normality that implies efficiency and honesty in the administration. (CM)
www.rri.ro
Publicat: 2022-10-31 13:50:00
Vizualizari: 601
Tipareste