Tourist Attractions in Banat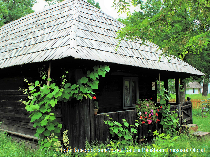 Today we are going to the historic region of Banat
Tourist Attractions in Banat
Today we are going to the historic region of Banat. We discover the most isolated locality in Romania, a tiny village in the Cerna Mountains, whose only connection to the outside world is a wooden ladder, 100 m long, fixed to the side of a mountain. We can also reach the watermills in Rudaria, unique in Eastern Europe. We are also going to talk about the Jazz Festival in Garana, an international event that is also about traditions and authentic folklore.
Banat and the whole of Romania want to activate tourism in various forms, according to Dan Mirea, the manager of the Center for Creation and Promotion for Traditional Culture in Caras Severin:
"If we refer to authentic tourism, or brand tourism, which we already have, I think I would make a direct referral to the Bigar Waterfalls in Almaj Valley. It is very well known. It is one of the seven most beautiful waterfalls of the world. We have another area with a lot of foreign tourists. These are the watermills of Rudaria, which are built in the 18th century. What is different about them is that locals in the area are still milling their wheat and corn to this day, because they remain functional. Many television crews from around the world go there to report on the windmills. We also have another special are. We have a village in Caras, in the mountain part of Banat, which can only be reached by some very steep steps. It is called Inelet. As a poet put it beautifully, it is the village in Romania that is closest to God. There is no other access to this locality. People use these stairs, which are used even to take kids to school or to the doctor, in what we call saddlebags. And when people pass away, their journey to being laid to rest takes seven hours, because they don't have a cemetery there."
This most isolated of villages in Romania, Inelet, has around one hundred houses, spread out, one on each small hill. Of these, only 33 are still inhabited. The first sign that tourists have reached this place is the village church, built on a hill in the year 1973 by the locals. Another great area is that of the village of Garana, which was inhabited starting in the 19th century by Saxons, says Dan Mirea:
"Right now they have there one of the most important jazz festivals in the world, and a lot of foreign tourists come here along an entire week, at the end of August. The tickets get sold out two years ahead of time. This year, as opposed to previous years, after this period of time that has put the brakes on all art manifestations, tickets were sold out within 14 hours. Another great element would be the mountain of Semenic, which is now undergoing perpetual change. A lot is getting invested in logistics and infrastructure. Two European level ski slopes are being built, one of them rivaling the one in the famous resort of Innsbruck, in Austria. In fact, it is precisely an Austrian company that is working there. By the end of 2023, when they will be opened to the public, these slopes will definitely bring in a very large number of tourists. We also have on the Bistra Valley, in the heart of Banat, many artistic activities, and not only in this area. Banat is represented by loads of artistic activities. One example would be the International Festival Hercules, in Baile Herculane. This is a town that did honor not only to Caras-Severin County and Banat, it did honor to Romania during the time when it became an emblem of spa tourism all over Europe."
As for the Baile Herculane spa itself, certainly one of its main attractions is its historic center. We find here legacy buildings, such as the Casino, the Austrian Imperial Baths, and the villa that was hosting the Empress of Austria-Hungary, Elisabeth, or Sissi, who fell in love with Baile Herculane and the surrounding area. Here is Dan Mirea:
"The old center has just been completely restored, and the famous Hercules statue, which became the national and international brand image for Baile Herculane, regained the shine it had in the 19th century. In Herculane there is an international festival, over 30 years old, the International Hercules Festival. Every year, over 40 countries come here to present their traditions and folklore. We have in Banat a large number of regions that represent some form of folklore. There are three big areas: Caras Valley, Bistra Valley, and Almaj Valley, the mountainous area of Banat. These regions have the most appreciated singing, dancing, and traditional costumes. People value traditional garb more than anything else. It is said in Banat that old people would sell even their funeral plots, but they would not part with the traditional costumes from their forebears. As manager of the Center for Creation and Promotion for Traditional Culture in Caras Severin, I have a few projects for next year. We are trying to gravitate towards and join Timisoara, which will be 2023 European Cultural Capital. One of my projects for next year is an exhibition with over 1,000 costumes from all the representative areas of Banat."
In addition to the spa of Baile Herculane, there is a small area that started becoming a pole of attraction for tourists, called Muntele Mic, the Small Mountain. The spa here is at an altitude of about 1,550 m, and is a destination for lovers of winter sports. At the same time, at the foot of the mountain you will find traditional craftsmen and their stories, as Dan Mirea told us:
"We also have right by the city of Resita a village that has become representative not just for Banat, but for the whole of Romania. It is the village of Binis, where a master potter, who passed forward the tradition of his forebears, represented Romania at the greatest international fairs of the world. As a fun fact about this place, four presidents of the US have decorated this master potter. The unique thing is that he never upgraded his potter's wheel. It has been used for over 200 years, and it has a special charm. Anyone sitting down at this wheel and spinning it has no chance of spilling the clay off of it. Last but not least, we have a wood carving camp, which this year expanded. It was started a few years ago in Barana. Right now, any other places have adopted this carving camp. Artists from all over the world, from 35 countries, come every year to Caransebes. For a month, they pick a tree stump from the surrounding forests in the Banat mountains, after a ritual of befriending this stump."
This is a destination where natural attractions blend harmoniously with the cultural heritage, all this complete with cultural events throughout the year.
www.rri.ro
Publicat: 2022-11-24 03:19:00
Vizualizari: 466
Tipareste