Romania's assistance for the Republic of Moldova continues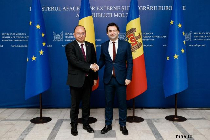 Bucharest has consistently assisted the ex-soviet Romanian-speaking Republic of Moldova, a country severely affected by the war in neighboring Ukraine
Romania will continue to support the neighbouring Republic of Moldova to overcome the crises it is presently facing, the head of the Romanian diplomacy Bogdan Aurescu said in Chisinau on Monday during the visit he paid upon the invitation of his counterpart, Nicu Popescu.
According to Radio Chişinău, the sides have underlined the importance of developing the interconnectivity of the two countries' power grids, of easing crossborder traffic including through the construction of bridges over the Prut River.
Talks also focused on the implementation of an agreement on non-reimbursable financial assistance of 100 million euros offered by Romania to its neighbour. Projects over more than 25 million have already been homologated
Also high on the agenda was the process of making the support platform for the Republic of Moldova, initiated by Minister Aurescu jointly with his German and French counterparts, operational. The two officials have also tackled the European roadmap for the Republic of Moldova and Romania's concrete support for this objective, including through opening EU accession negotiations.
In another development, Minister Aurescu says that he doesn't have information on the risk of a Russian invasion of this country through northern Ukraine as they are now speculating in Chisinau.
He says that Romania will be taking all necessary measures if need be, but at the moment he doesn't believe the neighbouring country is at risk, as the war Russia is presently waging in Ukraine has reached a deadlock.
The Republic of Moldova loves Romania for the assistance it provided in difficult times as well as for its strong support in the process of the country's EU accession, the Moldovan pro-western Prime Minister Maia Sandu recently said around Romania's national day on December 1st.
She described Romania as "the shoulder you can rely on in times of need, mentioning the country's main contributions and investments, such as in kindergartens, school busses, scholarships, diesel fuel, vaccine, humanitarian aid, support for modernizing the villages, for improving communication with the loved ones by eliminating the roaming fees, the support given to Moldovan culture and the construction of bridges between the two countries.
Romania is also loved for the electricity it provides, which brings light to Moldova at a time when Russian missiles are spreading darkness as well as for the Romanian language, which is also the language we grew up with," the Prime Minister, who also got the Romanian citizenship, went on to say. Created on part of the Romanian eastern territories annexed by the Stalinist Soviet Union following an ultimatum in 1940, the Republic of Moldova proclaimed its independence on august 27th 1991, in the wake of the abortive new-Bolshevik coup against the last Soviet leader, the reformist Michael Gorbachev. On the same day, Romania became the first country in the world to recognize Moldova's independence.
(bill)
www.rri.ro
Publicat: 2022-12-20 13:50:00
Vizualizari: 497
Tipareste