Romania in the grip of winter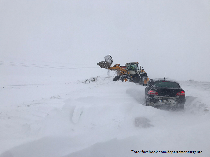 Late last week Romania was in the grip the first cold snap this winter.
The first and single cold snap in the 2022-2023 winter season took Romania into its grip at the end of last week. This happened after the Christmas and New Year celebrations had unfolded in the context of record high temperatures. Meteorologists have even marked this year the warmest day of January in history, at a number of weather stations across the country - 22 degrees Celsius on January 19. That is why, during the frequent talks about the weather forecast, older people nostalgically remember the winters of the past, with extremely low temperatures and heavy snowing that started in December and only ended in spring.
The younger generation however, not having experienced such cold winters, can only take the stories of their grandparents for granted. Some of them even complain that, in spite of obviously crossing the middle of winter, it has started to snow and temperatures have dropped a little bit below zero.
The 3-day blizzard and snow episode late last week disrupted traffic in a number of Romanian counties, where orange and yellow code alerts for bad weather were issued. The effects were however limited, after rescue teams and volunteers managed to help drivers blocked in the snow and fix the blackouts. Also, trees and electricity polls blocking the roads were removed. The heavy snow and disrupted traffic prompted a school in the eastern town of Galati move its classes online. Also, rescue teams safely transported to the hospital several pregnant women blocked in their cars because of the band weather, and assisted other people who needed medical care.
The circulation of trains was not disrupted but delays were reported in a number of cases, in the areas affected by blizzard. No flights were cancelled due to bad weather. According to a release of the General Inspectorate for Emergencies, more than 5 thousand firefighters, with over 3,600 vehicles were in standby, ready to intervene in support of the citizens and local authorities affected by the bad weather. Also, dozens of military helped removing the snow. In total, localities in almost half of the country needed the help of intervention teams and this happened in the curse of three days of true winter alone. (ee)
www.rri.ro
Publicat: 2023-01-30 14:00:00
Vizualizari: 540
Tipareste