Sports flash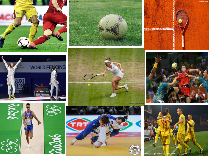 The latest from table tennis, basketball and women's volleyball
Romanian national men's table tennis team this past Wednesday in Bucharest's Multi-purpose Sports Hall grabbed a 3-nil win against Slovenia. It was the national team's last scheduled A6 Group fixture as part of the European Teams Championships' preliminaries. In the competition's group stage, Romania grabbed four wins, two against Slovenia and two against Ukraine. Both fixtures were played in Bucharest.
The Romanian national women's table tennis team have already secured their qualification to the European Championships' final tournament. Also on Wednesday, the women's national team defeated Hungary, 3-nil. It was our team's last scheduled A1 Group fixture as part of the preliminaries. Europe's vice champion team, Romania won all their group fixtures in the competition: there were two wins against Turkey and two wins against Hungary. In the men's as well as in the women's version of the European Championships, the first two teams in the six groups go straight to the final tournament, to be hosted by Sweden's Malmo in September. Third-placed teams are to play additional qualifying matches as part of the second round in the group stage.
In news from basketball. In a confrontation counting towards FIBA EuroCup, Sepsi Sfântu Gheorghe this past Wednesday women's team have bene eliminated from competition, sustaining a 83-87 home defeat by French opponents LDLC ASVEL in the second leg, as part of round of 16. Holders Sepsi had also been defeated in the first leg they played in Lyon, 76-91. In Group L as part of the FIBA Europe Cup's men's version, CSM CSU Oradea sustained a 66-74 away defeat by Polish opponents Anwil Wloclawek. For CSM CSU Oradea, it was the third consecutive defeat; notwithstanding, the Romanians still have a chance to advance to the quarterfinals. With 9 points, Wloclawek are at the top of the table, followed by Brose Bamberg of Germany, with 8, CSM CSU Oradea, with 7 and Cypriot team Keravnos, with 6. In Group I, SCM ''U'' Craiova a sustained a 64-71 home defeat by French team Cholet Basket. First-timers in the European cups, SCM ''U'' Craiova sustained their fifth consecutive defeat in the second round as part of the group stage. SCM U Craiova are the bottom-of-the-table team according to the group rankings.
In women's volleyball, CSM Lugoj this past Wednesday grabbed a 3-2 win against Belgian side Beveren in the first leg as part of the Challenge Cup's quarterfinals. The return leg is scheduled on February 8 in Lugoj. We recall that in the previous season, CSM Lugoj were unable to go past the Challenge Cup's quarterfinals. (EN)
www.rri.ro
Publicat: 2023-02-02 01:45:00
Vizualizari: 629
Tipareste