February 8, 2023 UPDATE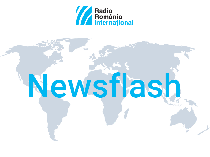 Click here for a roundup of local and world news
EARTHQUAKE The massive earthquakes that hit Turkey and Syria on Monday killed around 12,000 people, according to the latest reports. Two-thirds of the total casualties are reported in Turkey. Tens of thousands of people were injured. In spite of the freezing cold, rescuers are struggling to find survivors. President Tayyip Erdogan declared disaster areas in the 10 provinces affected by the quakes, and introduced a 3-month state of emergency. Seventy countries have so far provided support in the search and rescue operations. Romania joined the international aid efforts and sent nearly 120 search and rescue specialists, doctors and nurses, as well as search and rescue dogs. Many Romanian nationals have contacted the Embassy in Ankara to report the situation there, but few of them requested to be repatriated. Turkey is located in one of the world's main seismic areas. In 1999, an earthquake occurring in Düzce, in the north of the country, killed over 17,000 people. As regards Syria, Romania is going to provide mostly humanitarian aid, following that country's request to the EU Civil Protection Mechanism.
PATRIOT Romania has received a second Patriot system, out of the total four, that were contracted for the first stage of the country's Air Force equipping programme. According to the defence minister Angel Tilvar, the four systems represent the first stage in achieving state-of-the-art ground-based air defence capability, which can be fully integrated into the NATO system. Patriot systems were first delivered to Romania in 2020, and 2023 is the year when the first stage of the equipping programme is to be fully completed, according to the Defence Ministry. The Patriot system is one of the most advanced air protection systems of the US military arsenal. It is a mobile system that usually includes a powerful radar, a control station, a power generator, launch stations and support vehicles.
EU The European Council on Thursday will hold a summit in Brussels to discuss the war in Ukraine, the EU economy and migration. A video-conference chaired by the European Council President, Charles Michel, was held on Tuesday and was also attended by Romanian President Klaus Iohannis, who said talks focused on the support granted to Ukraine, consolidating the competitiveness of the EU economy and implementing concrete measures of combating illegal migration. Although Schengen enlargement is not officially on the agenda, President Iohannis might approach it informally in the plenary or during bilateral meetings with his counterparts.
MOTION The Chamber of Deputies Wednesday dismissed the simple motion tabled by the opposition against the interior minister Lucian Bode. The document signatories accuse Bode of plagiarism and blame him for Romania's failure to join the Schengen area. In Monday's debates on the motion, Lucian Bode argued that the opposition's claims were untrue and prompted by the forthcoming elections.This is the second failed motion against minister Bode, after the one in October.
PROTESTS Members of the Sanitas Trade Union Federation Wednesday held protest rallies in Bucharest, for the 3rd consecutive day, picketing political party offices. Several hundred unionists from around the country protested against the Salaries Law and the under-financing of healthcare institutions and social assistance in Romania. The list of demands includes a minimum 15% pay raise. The unionists warned that unless the authorities meet their demands, further protests may be planned. (E.E., A.M.P.)
www.rri.ro
Publicat: 2023-02-08 20:00:00
Vizualizari: 619
Tipareste