Sports flash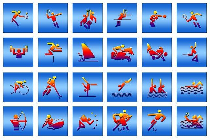 The latest from men's and women's basketball and women's volleyball
Romanian Football Federation's Discipline Committee on Wednesday placed a sanction against FC U Craiova 1948 club, ruling, at the green table, that the former team sustained a nil-3 defeat by Sepsi Sfantu Gheorghe, in a game counting towards the Romanian Super league's 23rd round. Also, FC U Craiova 1948 club gallery was banned from attending FC U Craiova 1948's upcoming six regular fixtures, on home turf or away. Hosted by the Sfantu Gheorghe stadium on January 29th, the game pitting Sepsi against FC U Craiova had to be stopped on 26 minutes and later suspended by the central referee, when the score was a blank draw, because FC U Craiova's fans shouted anti-Hungarian slogans.
U-BT Cluj-Napoca men's basketball team on Wednesday won the Romanian Cup, having won the match against CSM CSU Oradea in Constanța, 78 - 65. The latter team had the upper hand during the first quarter of the game, yet U-BT Cluj Napoca came from behind towards the final, securing a 17-15 lead, In the second quarter of the game U-BT secured their advantage only to consolidate it, in the third quarter of the game. The last part of the match was a balanced one, yet CSM CSU Oradea were unable to level the score and win. U-BT Cluj Napoca's most efficient scorers were the American Patrick Richard, with 15 points, 4 recoveries and 3 assists and the Brazilian Léonardo Meindl, with 14 points, 6 recoveries and 6 assists. CSM CSU Oradea's best athletes were the American Mark Ogden, cu 15 points and 4 recoveries and the American-born international basketball player Kristopher Richard, with13 points, 3 recoveries and 6 assists.
In news from women's basketball, Sepsi Sfântu Gheorghe has a win-all record so far in the ongoing season, having grabbed a 76-63 away win against CSM this past Wednesday, in a fixture counting towards the National league's 17th round. Sepsi Sfântu Gheorghe are at the top of the table, with 32 points in 16 matches. Following is Baschet Arad, with 29 de points in 16 matches.
In women's volleyball, this past Wednesday Rapid Bucharest grabbed a 3-1 home win against vice-champions CSM Targovişte, in the first division's 18th round. Also in Bucharest, CSM sustained a nil-3 home defeat by Dinamo. Volei Alba Blaj are at the top of the table, with 44 points in 14 matches. Dinamo and CSM Targoviste follow, with 37 points each, also in 16 matches. (EN)
www.rri.ro
Publicat: 2023-02-16 01:45:00
Vizualizari: 638
Tipareste