The Prime Minister of the Republic of Moldova visits Bucharest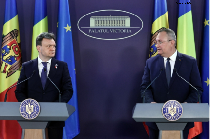 Political leaders from Romania and the neighboring Republic of Moldova confirm that bilateral relations are excellent.
The Romanian Prime Minister, Nicolae Ciucă, promised, on Wednesday, in Bucharest, to his counterpart from the neighboring Republic of Moldova (an ex-Soviet state , with a majority Romanian-speaking population), the pro-Western Dorin Recean, Bucharest's support for the implementation of reforms, the consolidation of the economy, of the resilience and security of the state, as well as support for the continuation of the European path. PM Ciucă welcomed what he called the excellent level of bilateral relations and the remarkable dynamics of the dialogue between Bucharest and Chișinău.
According to the prime minister, Romania has consolidated its status as the first commercial partner of the Republic of Moldova. Bilateral trade, he recalled, increased by 1.2 billion dollars in 2022, which means that it reached about 3.6 billion. Against the background of Russia's brutal war of aggression against Ukraine, the Romanian Prime Minister went on to say, we are witnessing more and more attempts to destabilize the Republic of Moldova, artificially creating tensions, hostile narratives built around the propagation of false information.
"I assured my counterpart of Romania's unwavering support for respecting the sovereignty and territorial integrity of the Republic of Moldova within its internationally recognized borders" – the Prime Minister Ciucă added. The Romanian authorities will unreservedly support the leadership in Chișinău to achieve the goal of integrating the Republic of Moldova into the European Union, President Klaus Iohannis in his turn told the Moldovan Prime Minister Recean.
The Moldovan official also had a meeting with the Speaker of the Romanian Chamber of Deputies, Marcel Ciolacu, who assured him of Romania's support for part of the gas consumption of the Moldovan citizens, through the import contract agreed with Azerbaijan. And the Custodian of the Crown of Romania, Princess Margareta, received the Moldovan Prime Minister and reiterated the support given by the Royal Family of Romania to the Republic of Moldova.
Dorin Recean made his first visit abroad to Romania after being sworn in as prime minister in mid-February. "I will go to Bucharest on my first visit. We have to start the working mechanisms here, in the Republic of Moldova, and immediately after that I will go to Bucharest. (…) We are privileged to have this good relationship with Romania, which helped us enormously in overcoming the energy crisis, in our European aspirations. Romania advocated for us in the European institutions, in such a way that we can now advance on the European path" - said Prime Minister Recean.
The government program presented before the vote of investiture in Parliament, actually mentions that special attention is paid to the relations with Romania, which will be "strategic" and "privileged" relations. (LS)
www.rri.ro
Publicat: 2023-03-02 14:00:00
Vizualizari: 1085
Tipareste