Sports flash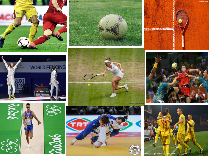 The latest from football, table tennis, lawn tennis and men's volleyball
Sepsi Sfântu Gheorghe has won the Romanian Cup in football this past Wednesday, when they secured a 5-4 win against Universitatea Cluj, after the penalty shootout. The scoreboard displayed a blank draw after regular time, but also after extra time. Sepsi Sfântu Gheorghe's hero was a former footballer of Universitatea Cluj, goal keeper Roland Niczuly, who deflected three penalty kicks. Scoring for Sepsi were Roland Varga, Alexandru Tudorie, Ion Gheorghe, Marius Ştefănescu and Mark Tamas, while Jonathan Rodriguez and Adnan Aganovic wasted their opportunities to score. Scoring for Universitatea Cluj were Alexandru Chipciu, Ovidiu Bic, Dragoş Tescan and Dan Nistor. Failing to score for Universitatea Cluj were Ely Fernandes, Jose Gomes and Ivan Martic. Sepsi Sfântu Gheorghe has won the trophy for the second time running.
In news from table tennis, the World Individual Championships are ongoing in Durban. In the round of 32, all four Romanian representatives, on Wednesday, Elizabeta Samara, Andreea Dragoman, Adina Diaconu and Bernadette Szöcs were eliminated from competition. The Romanian-Spanish pair made of Ovidiu Ionescu and Alvaro Robles, silver medalists at the World Championships in Budapest in 2019, was unable to move past the men's doubles' round of 16.
This past Wednesday, Romanian tennis players Elena Gabriela Ruse and Miriam Bulgaru were defeated in the second qualifiers round ahead of the women's singles main draw in the year's second Grand Slam event, the Roland Garros tournament. Belgium's Ruse Greet Minnen defeated Ruse, 6-4, 6-1, while US challenger Kayla Day defeated Miriam Bulgaru, also 6-4, 6-1. Ruse and Bulgaru received 22,000 Euros each and were granted 20 WTA points. Earning in their place in the women's singles' main draw are four other Romanians, Irina Begu, Sorana Cîrstea, Ana Bogdan and Patricia Ţig.
In news from men's volleyball, head-coach Sergiu Stancu has extended his contract with Arcada Galaţi, the team with which, since 2019, he has won consecutive five titles. Arcada Galati did not provide any info on the length of the extended contract.
Sergiu Stancu is also Romanian men's national team's head-coach. This coming Saturday, in a fixture counting towards the Golden League, the Romanian national team play its debut match against Portugal, away from home.
www.rri.ro
Publicat: 2023-05-25 13:45:00
Vizualizari: 373
Tipareste