European recommendations for infrastructure development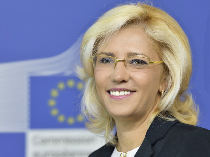 The European Commissioner for Regional Policy, Corina Cretu, is unhappy with the progress of Romania's EU fund spending.
While on an official visit to Romania, the European Commissioner for Regional Policy Corina Cretu warned the Romanian authorities against doing too little to develop the transport infrastructure. She said it was important for Bucharest to submit major projects to the European Commission, so as to be able to absorb more EU funds earmarked for this field. Corina Cretu also said that there are administrative problems, that bureaucracy has not been reduced, and that Romania is losing money. The European official also mentioned that since she took over the post in Brussels in 2014, Romanian authorities only submitted 4 major financing projects.
Corina Cretu explained that there are problems that prevent the funding of projects that might have been eligible, and mentioned the example of the Sibiu-Pitesti motorway, which cannot be financed from the EU budget because construction works on 2 segments have been initiated without environmental permits.
Corina Cretu: "In our opinion, there are substantial delays in this project, and we estimate that actual construction cannot begin sooner than in 2019. As you know, the motorway is divided into 5 lots, for which contractors have been invited to bid. Lots 2, 3, and 4 are the most difficult, in technical terms, because these motorway segments cut through the mountains. The contracts for Lots 1 and 5 have been awarded, and works have been initiated without first assessing the impact on the environment."
Corina Cretu also said that the latest Romanian infrastructure project submitted to the European Commission is the one concerning the extension of the underground line connecting the city of Bucharest to the Henri Coanda International Airport. The European Commission will fund this project, which will also benefit from a loan from the Japan Bank for International Cooperation and funding from the state budget.
Corina Cretu: "We are prepared to finance all these projects. As I have already said, the total eligible costs are yet to be figured out in detail, but we estimate around 350 million euros. The Japan International Cooperation Agency is interested in co-financing this project, and we are waiting for the Romanian authorities to inform us of the stage of negotiations."
The European Commissioner for Regional Development mentioned that the cohesion policy is, for the first time in the history of the European Union, the field with the largest funds earmarked in the forthcoming budget, for 2021-2027, and that Romania, Bulgaria and Greece are to receive 10% more money than at present. Corina Cretu advised the Government and local authorities to prepare projects for this period. Romania must take full advantage of the opportunities entailed by its EU membership, must spend European funds as quickly as possible, and it must simplify procedures and reduce bureaucracy, the European official concluded.
(Translated by Ana Maria Popescu)
www.rri.ro
Publicat: 2018-09-17 10:46:00
Vizualizari: 265
Tipareste