The igloo camp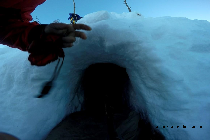 Participants learn how to survive at extremely low temperatures in a structure made up of snow
A sleeping bag, a thermal blanket, a neoprene sheet, a small shovel, ten candles and warm clothes are all you need to take part in an unusual expedition, the igloo camp. Participants learn how to survive at extremely low temperatures in a structure made up of snow, as part of an initiative that seeks to promote living in nature. The first camp of this kind was held two years ago. This year, it brought together 50 participants willing to face the elements in the Parang Mountains. Adi Cimpeanu from Petrosani told us his story and how he ended up building igloos in Romania:
Adi Cimpeanu: "In 1996, I joined the Foreign Legion, where I stayed for five years, until 2001. I was part of the mountain combat troops and I learnt how to build an igloo for shelter. When I was done with the Legion I decided to apply what I had learnt at home, in Parang, in the Jiu Valley area. It all began as a game. I invited some friends and taught them how to build an igloo, because I thought it's a pity not to share with others what I knew. Later that evening, about 15 other people showed up after hearing about this initiative. It was a success, and this year I decided to do it again, as there is quite a lot of snow. A lot of people turned up and it was great, a total success."
It was an undertaking supported by the municipality and by a number of dedicated people. Our interlocutors named those who removed the snow heaps with special tools, while the participants were only left to dig the igloos. Adi Campineanu also told us that around 30 participants in the camp slept in igloos. But how many igloos were built in the Parang Mountains?
Adi Cimpeanu: "There were seven igloos capable of housing four people each, two on the left and two on the right-hand side. There is a one-meter hole at the entrance of the igloo, then comes a vault, and then the beds, which must be placed at a distance of 30-40 centimetres from the entrance, so that the right temperature can be provided, by means of candles or icon lamps. The temperature in the igloo was 14 degrees Celsius, while outside there were minus 24 degrees Celsius. It is very important for us to have sleeping bags. With all the snow, it feels a little colder. But at this temperature survival is not a problem, provided we have the necessary equipment. And the greatest secret of all – one that professional climbers and mountain rescue staff know – is that we need to sleep in only our underpants and T-shirt, in the sleeping bag. Of course, at first we keep our trousers and a thick fleece on, then we breathe for about 10 to 15 minutes inside the sleeping bag, and after that we take off our clothes, and keep only the underpants and a T-shirt, so that the temperature of our body can bring the temperature up in the sleeping bag. Otherwise, it would be as if we wanted to warm our house, but we put carpets on the radiators."
Rules are very clear when it comes to sleeping in an igloo, and those who observed these rules were able to get a sound sleep, Adi also told us.
Adi Cimpeanu: "Some people wouldn't listen and got inside the sleeping bags with their clothes on. Within an hour or so, they started shivering, because the warmth was captive between their body and their clothes and there was nothing to warm the sleeping bag. They took off their clothes eventually, so it got warmer and they were able to sleep very well as the temperature inside the sleeping bag remained constant."
The secret to rough sleeping in the mountains is to get into the sleeping bag with as few clothes as possible in order to benefit from the temperature the body is creating inside it.
Adi Cimpeanu: "Playing by the rules is everything in these cases. Many tourists told me they wouldn't observe these rules and every time my response was: 'if you don't want to follow these rules, you'd better get back to the chalet because once you start getting cold, it's very difficult to get warm again. Another secret is that when you are freezing, you should take your clothes off and wash your body with snow, then wipe with a towel and get naked into the sleeping bag. In this way you force your body to produce more heat and get warm again within five minutes or so."
The participants in the igloo camp came from all over Romania and all of them were delighted by the experience. The organizers intend to repeat it, weather permitting and if there is interest in it. Until then we are glad they've let us in on a couple of secrets on extreme survival.
www.rri.ro
Publicat: 2019-01-22 12:35:00
Vizualizari: 815
Tipareste