Iaşi - Historical Capital of Romania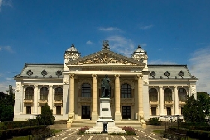 Dear friends, RRI invites you to participate in a new prize winning contest, entitled "Iaşi - Historical Capital of Romania"", devoted to the city of Iaşi and Iaşi County in northeastern Romania.
In 2018, the year of the Great Union Centennial, the city of Iaşi was declared under Law no. 361/2018 "Historical Capital of Romania". Also last year Alba Iulia was proclaimed "Capital of the Great Union". Iaşi was the capital of the Principality of Moldavia between 1564-1859, one of the two capitals of the United Romanian Principalities (Moldavia and Wallachia) over 1859-1862, as well as the capital of the Kingdom of Romania between 1916-1918, during the Great War, when Bucharest was under German occupation. Over May 2, 2019 and May 1, 2020 Iaşi has been declared the Capital of Youth in Romania, as part of a national programme devoted to young people. On June 1, 2019 Iaşi was visited by his Holy Father Pope Francis, becoming for a few hours the world capital of religion. Iaşi is a city of culture and the arts, of high-quality education, history, religion and tourism, but also the birthplace of scores of iconic Romanians.
We invite you to follow RRI's broadcasts, our site www.rri.ro and our Facebook and LinkedIn profiles and provide correct answers, in writing, to the contest questions. The contest ends on August 31, 2019, mailing date (August 31, at midnight, Romania's time, for online participants).
Two Grand Prizes will be offered to two RRI listeners, consisting of an 8-day (7-night) trip, full-board, over October 10-17, 2019, sponsored by Majestic Hotel in Iaşi.
As usual, winners will be asked to cover personal transportation to Romania as well as proceedings to obtain a visa for Romania, where necessary. Additional prizes consisting in objects that promote the culture of Iaşi will be up for grabs.
The contest is co-organized by the Iaşi City Hall, The Bishopric of Moldavia and Bukovina, the Roman-Catholic Diocese of Iaşi, the Iaşi National Museum Complex, the Federation of Youth NGOs from Iaşi, Radio Romania Iaşi and other partners.
And now the questions:
-In what context was Iaşi the capital of Romania?
-What was Iaşi declared over 2019-2020?
-Which world leader visited Iaşi early this summer?
Please tell us what prompted you to participate in the contest and why you are listening to RRI's broadcasts and following RRI's content online. Our address is: Radio Romania International, 60-64 G-ral Berthelot Street, Sector 1, Bucharest, PO Box 111, code 010165, fax 00.40.21.319.05.62, e-mail: engl@rri.ro. Please send your answers by August 31, 2019, mailing date (August 31 28, 2019, 24:00 hours Romanian time, for online contributions). The rules and regulations of this contest are available online and on RRI's Facebook profile. Good luck!
www.rri.ro
Publicat: 2019-07-01 13:00:00
Vizualizari: 4044
Tipareste