Sports Flash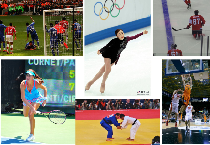 The latest from athletics and domestic football
Romanian athlete Florentina Marincu Iuşco has walked away with the bronze medal in the long-jump event of the 30th edition of the Summer Universiad, underway in Naples. Coached by Nicolae Alexe, Florentina stepped onto the third step of the podium thanks to a jump measuring 6 meters and 55 centimeters. The Romanian was outclassed by Ukraine's Marina Beh-Romanciuk, with a jump of 6 meters and 84 de centimeters and by Evelise Tavares Da Veiga of Portugal, with a jump of 6 meters and 61 centimeters. It was the third medal the Romanian delegation has won at the Universiad, after the two bronze medals won by Razvan Ursachi in the men's saber event and Malina Calugareanu in the women's foil event.
The Romanian footballer currently playing for Italian side Lazio, Ştefan Radu, has received offers made by teams from China, Saudi Arabi and the Netherlands, according to the Italian newspaper Corriere della Sera quoted by the Romanian Agerpress news agency. Also eyeing Stefan Radu are three Serie A teams, Atalanta, Palermo and Torino. However, Radu doesn't want to play for an Italian team any longer, after his 11-year stint with Lazio. The Italian press had for long made public the fact that the Romanian defender may part company with his current team. According to an Italian sports site, Radu had a heated argument with two teammates, the Brazilian Wallace and the Angolan Bastos, whom he accused they were not so dedicated to Lazio. The conflict degenerated and was brought to the attention of the club's sports director, who decided to give up on the Romanian footballer, although Radu's contract with Lazio expires in two years' time.
The new season of Romania's League One championship kick-starts on Friday. The debut game will see FC Voluntari taking on Sepsi Sfintu Gheorghe. The match will be hosted by the former team's turf. Just like in the previous season, the teams placed 1 to 6 in the regular season enter the play-off, while the teams placed 7 to 14 will continue in the play-out. The team at the top of the table according to the play-off qualifies for the Champions League preliminaries, while 2nd and 3rd-placed teams will secure their ticket for Europa League preliminaries. The 6th-placed team according to the play-out plays its playoff fixture against the Second League's 3rd-placed team. 7th and 8th-placed teams according to the play-out will be relegated from League One.
www.rri.ro
Publicat: 2019-07-11 13:18:00
Vizualizari: 478
Tipareste