The Alliance of Liberals and Democrats parts with the government coalition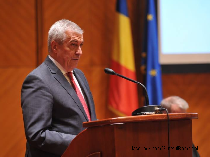 The Alliance of Liberals and Democrats ALDE says goodbye to the government coalition, a move that exposes the minority Social Democratic government to the risk of a censure motion.
The Alliance of Liberals and Democrats ALDE on Monday announced its parting with the governing coalition and going in opposition, and expressed its readiness to vote for a possible censure motion against the cabinet headed by the Social Democratic leader Viorica Dancila. The break up of the coalition occurred after the Social Democratic Party's (PSD) refusal to accept ALDE's requests related to a government restructuring and the improvement of the governing program, ALDE leader Călin Popescu-Tăriceanu explained. He added that ALDE could no longer endorse faulty budgets or measures such as those provided in the famous emergency decree that overtaxed banks, energy and telecommunications companies. Why did the coalition break up now?
Călin Popescu-Tăriceanu explains: "We have tried for a long time to endorse this government because we have considered that we need political stability and I don't usually have opposing viewpoints inside the government. That is why I think it is fair to part in a civilized manner today, and we wish the PSD and the PM to carry on their mission easily."
After almost 3 years of collaboration with the PSD, ALDE changes partners and is now counting on an alliance with the PRO Romania party, set up by the former Social Democratic PM and leader Victor Ponta. The PSD has now been left alone in the government, and it is determined to carry on with its governing program.
The announcement was made by the party leader and PM Viorica Dăncilă: "My colleagues say we have to continue to govern, we have a responsibility towards those who gave us their vote in 2016, we have the responsibility to implement the governing program, a responsibility that we have assumed together with ALDE, but now we, the Social Democratic Party, have to carry on alone."
The opposition has so far failed in its repeated attempts to topple the government through a censure motion. ALDE's leaving the coalition changes the power balance and the leader of the opposition National Liberal Party Ludovic Orban says he supports the idea of a censure motion if the PSD does not give up governing, in spite of losing the majority. He explained that Parliament's rejecting a restructured cabinet meant the dismissal of the government.
A censure emotion might be supported by the Democratic Union of Ethnic Hungarians in Romania whose votes would be decisive in a possible parliamentary face-off between the PSD and the opposition. However, the Union does not agree with early elections, which, they claim, are illegal less than 6 months ahead of the presidential election due in November. The leaders of the alliance made up of the Save Romania Union and PLUS parties, Dan Barna and Dacian Cioloş, favor the idea of early elections, as they claim a simple change of government is not enough. The next legislative elections are due in one year's time. (translation by L. Simion)
www.rri.ro
Publicat: 2019-08-27 13:55:00
Vizualizari: 673
Tipareste