A large-scale afforestation campaign kicks off in Romania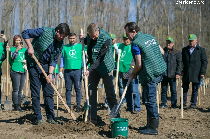 Authorities in Romania have kicked off a national afforestation campaign under the patronage of the country's president, Klaus Iohannis
Romania's first large-scale afforestation campaign in the past decade kicked off last week. The authorities here believe the project will allow them to plant over 50 million saplings and rebuild roughly 2 thousand forests.
The campaign, which unfolds under a suggestive title, 'A Forest As Big As A Country', involves the opening of roughly 13 thousand afforestation sites all over the country. The project started in Dambovita county, southern Romania, in the presence of the country's president Klaus Iohannis, who emphasized the importance of these forests for a clean environment and the fact that Romania needs to protect its virgin forests. According to the president, 'illegal logging is unacceptable in the 21st century'.
Klaus Iohannis: "I am asking the Prime Minister and the government members to find new instruments to protect Romania's forests. The instruments created and employed by the previous governments proved to be useless and improperly applied."
The campaign starts off against the background of massive illegal logging conducted in the past years, when Romania has lost millions of cubic meters of wood. Scores of illegal logging operations have been reported almost on a daily basis in recent years. Forest rangers have been killed in the line of duty, two of them last year alone; 650 of these forest rangers have become victims of aggression while monitoring illegal logging operations.
As the authorities failed to stop the phenomenon, several conservationist NGOs filed complaints with the European Commission and an infringement procedure was launched against Romania in February. The measure was taken due to the flawed legislation, which prevents the proper monitoring of illegal logging activities carried out in Romania's forests.
(translated by bill)
www.rri.ro
Publicat: 2020-03-09 13:50:00
Vizualizari: 626
Tipareste