Ambassador for the community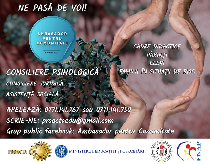 A new initiative helping people deal with the effects of the current crisis
As time seems to have frozen still, every day comes with more and more initiatives addressing students, parents and teachers, in the hope of helping everyone better adapt to the crisis generated by the COVID-19 pandemic and to its long-term effects.
In order to support families in Romania, the Proacta EDU association in partnership with the Ministry of Education and Research, the Federation of Free Trade Unions in the field of Education and the Federation of Parents' Associations in pre-University Education, have launched the first hotline for psychological counselling during the coronavirus pandemic, which will be available once the crisis has passed, as part of a project called Ambassador for the Community. Psychologist Nicoleta Larisa Albert, the founding president of the Proacta EDU Association, explains:
"It's a wider project. Beyond the awareness-raising campaign, we are a team of teachers and parents involved in a concrete project. We're offering psychological counselling to the teaching staff and parents, depending on the case, together with our fellow psychologists, who collaborate with our association. We have identified the potential of employing teachers as messengers for the community. In the current context generated by COVID-19, we strongly believe in the utility of this mission. Basically, teachers will become our allies, signaling those families that are at risk and redirecting them towards us. We will then provide psychological counselling, social and judicial assistance, where required. On the other hand teachers can team up with us in finding assertive communications alternatives for various situations".
Confident about being able to help people remotely and that we are working to restore people's emotional balance, Nicoleta Larisa Albert also said:
"Ever since we launched the association and to this date we've received emails, messages, phone calls, people asking for psychological counselling. We redirect these people to the psychologists we work with. We received questions from 12th-graders and requests from teachers who wanted to convey messages to the institutions we work with. They wanted recommendations about the current context. We have been providing everyone with educational and psychological materials. People have understood our message, the fact that we are a community, and we've received friend requests on our Facebook group, Ambassador for the Community. The door is open to everyone, and together with other NGOs and psychologists we will be answering all their requests".
Many questions have been asked from the very beginning by senior high school pupils, so because of that, we have invited Nicoleta Larisa Albert to tell us what the questions are, coming from senior high-school students.
"At any rate, the 12th grade poses a challenge to our teenagers, in the context we had before COVID-19. And that, apart from the baccalaureate exam, a great many questions occur, targeting what is about to happen in the social and economic life, so they somehow feel a little bit insecure, apart from their main purpose, the Baccalaureate exam, they have a lot many questions about what is going to happen afterwards. This context has sort of enhanced uncertainty a little bit, a context we haven't been asking for, actually, we have received it and we deal with it. And their questions were like the tip of the iceberg, something like that, what is going to happen with the Baccalaureate, when there is also an underlying emotion, what will become of me, what shall I choose, which direction shall I take, and suchlike. There were pupils who have been asking for that, specifically, saying that in the beginning I thought I could have more time on my hands for study, then I saw the condition I have grows on me, that of anxiety, I just can't make any sense of what is going on, how I can control my emotions, so I might need to talk to a counselor."
Psychologist Nicoleta Larisa Albert, the president of the Proacta EDU Association, offered some suggestions as well.
"I believe what it mainly does is helping us improve our adaptability. I think that, anyhow, it is the most important resource we have at our fingertips, and the only one robots cannot copy from us. We can handle the information level as well, we can find it everywhere, whether the COVID-19 has spread or not, for the times we live in and for their dynamics. Of course we're also advancing towards that area, the online in such a context and we are going to advance towards that even further, but we're going to keep the offline domain, that's for sure, we need human contact, we need to meet people, but they stay there, we have them in our inner world, they are still like some anchors and time will come when we're going to return, no one knows when. And then, in the context we cannot control what is going to happen, a great many questions occur. And that's why we are here. We are a team and as a team, we learn to grapple with every day just as it is and adapt according to the circumstances. Because, the present context may mean very different things to different people."
(Translated by V. Palcu & E. Nasta)
www.rri.ro
Publicat: 2020-03-31 14:00:00
Vizualizari: 1003
Tipareste