Dacia and Ford reopen factories in Romania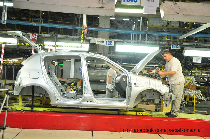 Dacia and Ford car factories in southern Romania to restart work in special conditions, more than a month since workers were furloughed because of Covid-19.
The European Automobile Manufacturers' Association estimated at the end of April that the measures taken at European level because of the coronavirus pandemic would affect over 1.1 million people in the car making industry, with production losses because of factory shutdowns expected to exceed 2 million cars. The data for Romania pointed to the loss of at least 20,000 jobs and production losses of almost 69,000 cars. "The local car production was gathering pace in February, with an annual growth of almost 8% compared with the same month last year and a rise of around 3% in 2019", says Elena Geageac, a Deloitte Romania consultant, adding that this sector accounts for 37% of Romania's exports.
The car industry is one of the worst hit economic sectors in Romania, with the two biggest local manufacturers, Dacia and Ford, suspending work in the second half of March after the declaration of a state of emergency over Covid-19. At the same time, car parts manufacturers working with these two factories and others from abroad, have also reduced or temporarily suspended work. The resumption, even gradual, of work at the Dacia factory in Mioveni and the Ford factory in Craiova has been eagerly awaited by the employees of the two companies who had been furloughed. In Mioveni, the French car maker Renault decided to resume work progressively beginning on the 21st April at two factories, with part of the workforce, with the rest going back to work on 4th May. The US car marker Ford also resumed work in a single shift on this date, at the same time as its factories in Germany and Spain. Half of the 6,000 workers went back to work with enhanced protection measures being put in place, just like in Mioveni.
While the factories were shut, measures were established and implemented to protect employees when they resume work. These measures have to do with hygiene and security and have to be strictly enforced, with employees being informed of the need to respect the decisions taken to protect their health and that of their colleagues. Such measures include the installation of thermal scanning devices at every entrance to the factory, wearing face masks and maintaining the recommended physical distance between workers. Employees are ensured access to the necessary cleaning and disinfecting substances and efforts are also being made to ensure that travelling to and from work is done safely.
www.rri.ro
Publicat: 2020-05-04 14:00:00
Vizualizari: 785
Tipareste