Cultural Cyclotourism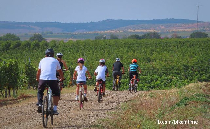 Romania is developing bicycle tourism with an eye to the future
Romania has quite a few bicycle trails. Some are meant for mountaineers, some take you to ancient villages, while others are meant to take you to places that cater to food and wine lovers. Today we will be emphasizing cultural tourism, however, as Romania is part of a recent pan-European project that encourages bicycle tourism aimed at cultural and historical venues.

Ionut Maftei is the manager of a tourist agency called Bike in Time. He told us that Romania will soon be fully in line with cultural cyclotourism standards held up across the continent:
"In principle we have a few thematic circuits, the Danube Route, the Mineral Water Route, the Wine Route, the Fortified Church Route in Transylvania, and others. These are cultural circuits aimed at religion, art, architecture, history, and civilization. In addition, there are a few cross-border routes crisscrossing Europe, from a few hundred to a few thousand km. A recent workshop organized by the EU made it known how cultural venues and routes can be made available to cyclists. For instance, take the Danube route. It goes from the springs of the Danube down to the Black Sea, in Romania. This means following closely the flow of the river Danube, visiting cultural and tourist objectives on this route that is 6,000 km long."

One other running European project is called Cyclotourism and Cultural Routes, and Ionut Maftei told us about it:
"The aim of it is to identify ways in which these previously established cultural routes can be made accessible to cyclists. As part of the EU, and given that some of these routes traverse Romania, we are part of this project. In addition, Romania is paired with Bulgaria when it comes to tourism and transportation, so we are a major partner in the project. Our advantage is that we can adopt this cyclotourism strategy for cross-border European routes. The strategy is very close to being adopted, meaning that all sides of Romanian state authorities will sign up to it. Once it passes, we will be able to start building bicycle routes along all kinds of automobile venues, from motorways to side roads. We already have many examples of such marked routes, made with the blessing of local authorities. In Transylvania, the area around Sibiu has such bicycle routes. We also have some around the wine region of Dealu Mare, made by the locals."

Right now the county of Sibiu has over 250 km of marked bicycle routes that link along the hills many picturesque localities. However, the favorite among foreign tourists on bikes is still the northern area of Maramures. Ionut Maftei told us more:
"It is a mixture of history, religion, culture, gastronomy, and landscapes that never miss the mark. Such a tour is a whole vacation on bikes. We use preexisting infrastructure. When I say infrastructure, I don't mean just roads, but also the landscapes and the tourist venues such as historical monuments. We also include here the restaurants, accommodation venues and bicycle service points. We have a car dedicated to assistance for such tourists, which is also available for carrying luggage between stops."

We asked Ionut Maftei about the reaction of bicycle tourists who follow the above mentioned Danube cross-border circuit:
"This is an area that is much wilder than the western side of the circuit, with much more impressive natural sights. Along the way you can also get to know traditional craftsmen who hold on to their skills passed down for generations. You can see, for instance, master horseshoe makers, something you don't get to see on the other side. These cultural routes are available to everyone. Getting back to this European project, our next aim is to build accommodation sites all along the bicycle routes."

Travel on these circuits is mainly in the spring and autumn, which are best for visitors. The program combines trekking, cycling, and, at the end of the journey, the Danube Delta experience, which means traveling by boat in a unique nature reserve. There the visitors can experience local culture, food, and lifestyle in many fishing villages. We asked Ionut Maftei what happens in the cold season in terms of cycling:
"These trips are seasonal, but not exclusively. For instance, you may get lucky with fair weather during winter, or be not so lucky during a better season and have a lot of rain. Last weekend, for instance, was quite busy, we took a group of tourists on the Wine Trail in Dealu Mare. It is the ideal schedule for families, with visits to wine cellars, with wine tastings for the grown-ups and must tasting for the kids. We also had a picnic in the vineyard, and we went grape picking after the last of the season's harvest."
It doesn't matter what your preferences are, because these bicycle tours can be personalized, and they don't take much of a toll physically.
www.rri.ro
Publicat: 2020-10-15 13:16:00
Vizualizari: 155
Tipareste