Gaudeamus 2020 – back to books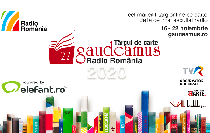 While held online, Radio Romania Gaudeamus 2020 still has all the ingredients of a conventional book fair.
The 27th edition of the Radio Romania Gaudeamus International Book Fair got under way in Bucharest, being held this year exclusively in online format. The honorary president of the festival is the Romanian-born writer Norman Manea, who has been living in the United States for more than 30 years:
"In this state of tension, a stubborn promotion of culture is a welcome act and I'm happy that the organisers thought of an exile like me, who is, as you know, still very attached to his country and his language, which he considers his home."
The book fair brings together over 100 participants, including publishers and distributors of Romanian and foreign books, music and educational games. They can all be found on a new website at www.gaudeamus.ro, in the Catalogue section, which includes special individual presentations created in partnership with elefant.ro. Book lovers can buy the books they're interested in from online stalls. Hundreds of events will be available online, whether in live streaming or recorded. The first day of the festival already saw dozens of book presentations and launches. Georgica Severin, the president and director general of Radio Romania, said the fair could continue to have an online component in the post-Covid era, thus reaching a wider public:
"It's as if this pandemic has made people hungry for culture once more. The isolation or self-isolation made us go back to books, both in their classic paper format and in electronic format. It made us rediscover the small joys, the joy of knowing that we're healthy. All these things together have created an atmosphere favourable to a book fair, even in a digital format."
The Gaudeamus fair also features some special events, such as a competition called I Want an Ideal School, where children and teachers can send messages about how they cope with remote learning during this health crisis and how they see the ideal school, where they could feel safe, motivated and appreciated. The messages will then be grouped into short reports, and the best will receive an award from Radio Romania. Exhibitors will also donate books and educational materials to create a library that will be awarded to the winning schools. (CM)
www.rri.ro
Publicat: 2020-11-17 13:45:00
Vizualizari: 773
Tipareste