Mountain Trails in Cluj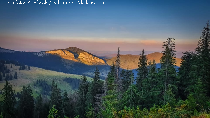 The county council of Cluj announced recently they would try to make official five more trails in the Vladeasa massif area
The county council of Cluj announced recently they would try to make official five more trails in the Vladeasa massif area, one of the most popular destinations in the area. With this, Cluj would have 59 mountain trails that are officially maintained. We joined our tour guide, Florin Mihut, head of the Vladaeasa mountain rescue service. He helped us discover the most beautiful trails, the most important tourist attractions, and provided us with a rich calendar of events. Registering officially the tourist trails in Cluj County is an achievement in helping tourists, helping them reach the best destinations. We asked Florin Mihut to pick a trail to present:
"It's hard to make a choice. It depends on the type of tourism we prefer. In Cluj, we have the Turzii Gorges area, which is spectacular and beautiful in the Vladeasa Massif Area. In my view, the Bride's Veil Waterfall is special, and there we can start many trails, one hour long or shorter. The main tourist objective is the Bride's Veil Waterfall itself, and my trail of choice would be the yellow triangle marked trail, which leads to the Vartop Grove glacier, a glacier with an 18 m thick waterfall."
This waterfall is very much popular with tourists, our guide told us:
"You can get a drive from the village of Rachitele, and at some point the asphalt road ends, and then cars are not permitted in the area, you have to go on foot. Very close by, 20 minutes from the objective, after we get to the waterfall, we find the Grotto Trail. It is a short hike, about 2 hours, with a succession of grottoes and stone bridges you can go under. It needs a minimum of experience, but we still need to have adequate equipment. At the same time, the more difficult areas have chains installed we can hang on to. I would also mention the Lespezi Peak, a panorama point with a great view of the waterfall. The Bride's Veil waterfall is for people with a minimum of experience. You only need adequate equipment and to consult the weather ahead of time."
Trails are all properly marked, and if you want to combine mountain and rural tourism, you have a lot to choose from. In this area you can find traditional blacksmiths, wood workers, and all kinds of traditions, especially involving food. At the same time, in Rachitele you have a great village museum, where you can check out traditional dress, and the tools to make such clothing.
Getting back to the mountains, Cluj also has plenty of ski slopes. Here is Florin Mihut:
"We have great skiing opportunities in the Vladeasa Massif, 1836 m high, both down slope and cross-country. Here we have both kinds of competitions. Weather permitting, the area is very easy to reach. We have a small area where there is a risk of avalanches. Otherwise there are no problems, and we encourage skiing in the Vladeasa area. The closest proper slope is Marisel. We also have the Baisoara-Buscat area, with proper slopes as well. In Vladeasa, however, we do enjoy the snow flurry that we get through with cross-country skis. It is also an area destined for mountain bikers. There is also a special area for horse riding and treks. The treks can start at Poiana Vartop or Poiana Marului. The Apuseni Mountains are also rich in caves and grottoes."
There are lots of details about the trails on dedicated websites, such as salvamontvladeasa.ue, or muntii-nostri.ue, where you can find information and descriptions. You can also find out about events organized on the trails, according to Florin Mihut:
"In this area, we have four competitions. We have mountain skiing, climbing skiing, and cross-country. We also have a mountain bike competition. In the Vladeasa area, we have a jogging competition, a marathon, a half marathon, and free climbing. The free climbing is pending the amount of natural ice, and if there is enough then we do a dry tooling competition. All these events are announced ahead of time, and are promoted under the Vladeasa Cup brand, for mountain biking, free climbing, and jogging. They are promoted on all social media that has to do with mountaineering. The Apuseni Mountains are popular with foreign tourists. Since this is an area close to Hungary, most tourists are Hungarian, but we also have Czechs, Slovaks, Germans, and French people, among others."
If you were persuaded to try this mountain adventure, you have a great tool to help you. Florin Mihut, head of mountain rescue in Vladeasa, told us about it:
"Mountain rescue, which in Romanian is called Salvamont, created an app called 0 Salvamont, which you can find on Google Play or the Apple Store, with information on tourist trails, the weather locally, and real time information about the slopes. Many of them have live cam feeds. In addition, if a tourist has this app installed, we can localize them in case they need help. They don't even need to provide us with their GPS coordinates."
Here is yet another complete vacation offer. During this season, in Vladeasa Massif, 1836 m high, in the weather station area, the first snow has started falling. So you can enjoy treks at the foot of the mountain in autumn, and also enjoy the snow at the top. Good travels!
www.rri.ro
Publicat: 2022-09-22 02:40:00
Vizualizari: 407
Tipareste