Sports flash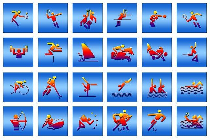 The latest from basketball, volleyball and ice hockey
The Romanian U-BT Cluj-Napoca basketball team has grabbed its second consecutive win in Group A as part of Eurocup. On Wednesday, Romanian title holders secured a 91 to 86 home win against Italian opponents Germani Brescia. U-BT's most recent run included two consecutive defeats. U-BTare 7th-placed in the group, wit two wins and three defeats. In the next round, U-BT will play an away fixture against Turkish team Frutti Extra Bursaspor, on November 30.
Also in news from men's basketball, in Group H as part of FIBA Europe Cup, CSO Voluntari grabbed a 77-70 away win against Swedish team Norrköping Dolphins. With two wins, CSO Voluntari can still retain their chances to advance to the competition's next stage. The other Romanian team competing in Group H, SCM U Craiova, has already secured its qualification. On Wednesday, SCM U Craiova lost to Germany's Merlins Crailsheim, 81 - 102. It was SCN U Craiova's first defeat in a group confrontation, where they are still at the top of the table. Second-placed are Merlins Cralsheim, third-placed are CSO Voluntari, while fourth-placed are Swedish team Norrköping Dolphins.
In the last round, crucial for the final rankings, Norrköping are pitted against Craiova, while Voluntari play Crailsheim, on November 30.
In Group E, CSM CSU Oradea has made a giant leap forward, I their bid to qualify to FIBA Europe Cup's second round. On Wednesday, the team from Oradea has grabbed its fourth consecutive win, defeating Bulgarian team Rilski Sportist in Samokov away from home, 90-62. Ahead of the last round, CSM CSU Oradea are at the top of the table in the group, with one point more than the teams coming second and third-placed, respectively, Cholet basket of France and Belgian squad Kangoeroes of Mechelen. The last group fixtures are scheduled in a week's time. On November 29th, Cholet Basket take on Rilski Sportist. On November 30th, Oradea travel to Mechelen for their fixture against Kangoeroes. CSM CSU Oradea's options, if they want to secure their qualification, include a win or a defeat with no more than 25 points.
In news form women's volleyball, Rapid Bucharest grabbed a 3-nil away win against Serbian opponents Tent Obrenovac, in a fixture counting towards the Challenge Cup. Rapid has returned to the European Cup after a two-year gap. Their win against Tent Obrenovac means a great step forward towards the competition's round of 32. The return leg is scheduled this coming Wednesday in Bucharest.
In the National Ice-Hockey Championship, on Wednesday, Steaua Bucharest grabbed a 3-2 win against ACSH Gheorgheni, away from home. Steaua Bucharest had already won this past Tuesday's match, 7-4 also in Gheorgheni. However, ACSH Gheorgheni are at the top of the table, with 30 points in 14 games played. 2-nd-placed are CSM Galaţi, with 23 de points in 12 games. With 20 points in 11 fixtures, Sport Club Miercurea Ciuc are 3rd-placed. Steaua Bucharest are 4th-placed, with 18 points in 9 matches.(EN)
www.rri.ro
Publicat: 2022-11-24 01:45:00
Vizualizari: 542
Tipareste