Athlete of the week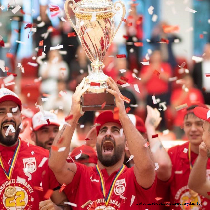 Iranian-born Dinamo handballer Saeid Heidarirad
It's interesting to notice that as of late, quite a few deserving athletes, born abroad, have settled in Romania. Many of them applied for the Romania citizenship, which they were granted, then they competed, internationally, for Romania. A telling example of that is the Russian-born Albert Saritov, an athlete who won bronze for Romania in the freestyle wrestling competition, at the Rio Olympics, in 2016.
In September this year, two top-flight handball players, signed up by title holders Dinamo Bucharest, were granted Romanian citizenship: the Iranian Saeid Heidarirad și the Croat Ante Kuduz. Both athletes have had noteworthy contributions to Dynamo's domestic and international feats. Now the path has been opened to both of them for a place in Romania's international team.
This past Thursday, in a Champions League fixture, Dinamo grabbed a 32 - 27 win against Wisla Plock. Goalkeeper Saeid Heidarirad had a most significant contribution to Dinamo's excellent run in the competition. Heidarirad had five saves, just like Dinamo's other goalie, the Algerian Khalifa Ghedbane. However, we need to add that Ghedbane's average save ratio stood at 18.5 %, while Saeid's accounted for 50%. For his most remarkable efficiency, crucial for Dynamo's success against Wisla Plock, Radio Romania International designated Saeid Heidarirad the Athlete of the week.
Saeid Heidarirad was born on September 22, 1990, in the Iranian town of Selseleh. Heidarirad boasts 32 caps for Iran's national team. He has been playing for Dinamo for six years. Arguably one of Champions League's best goal keepers, Heidarirad turned down many offers from other countries, opting for continuing to play in Romania. Now, with Dinamo, he stands real chances to advance to the Champions League's play-off stage, provided Dinamo wins in the return leg against Wisla Plock this coming Thursday. Dinamo are 5th-placed in group A, while Wisla, 6th. The first six teams will be making headway in the competition. (EN)
www.rri.ro
Publicat: 2022-11-29 01:45:00
Vizualizari: 444
Tipareste