Romanian Economy after Brexit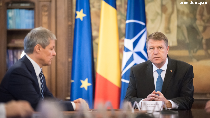 On Monday, Romania's President Klaus Iohannis invited PM Dacian Ciolos, Central Bank Governor Mugur Isarescu and the leaders of the parliamentary parties to meet for anew round of consultations on Brexit.
Britain's decision to exit the European Union involves a significant change in the geometry and architecture of the union and we'll have to find the best ways to deal with it, Romanian President Klaus Iohannis said upon returning from the European Council in Brussels, a meeting that also focused on Brexit. For this purpose, Prime Minister Dacian Ciolos, Central Bank Governor Mugur Isarescu and the leaders of the parliamentary parties will meet early next week for a new round of talks with the head of state, the second such meeting after the British referendum.
It's now time to focus on the next step at both EU and domestic level, says Klaus Iohannis, who believes that drawing up a new post-accession country project is a must. According to the Governor of the National Bank of Romania (BNR) Mugur Isarescu, Britain's decision to leave the EU has impacted the Romanian financial market to a lesser extent that those of the other countries in the region, but more serious effects might still be felt later. The result of the British referendum has translated into very small turbulences on the Romanian monetary and foreign currency market, the little changes that occurred being mostly the result of an emotional shock, Isarescu has said, adding that Brexit has further increased the level of uncertainty in international markets.
Mugur Isarescu: "Uncertainty is the main effect which is felt not only in Romania, but also in Europe and the whole world. As a consequence, our approach becomes much more practical, and that's something quite new. We see how things are unfolding and we take action using the tools we have. The good thing is that all Central Bank's tools are available. Nothing is blocked or limited in any way. And this is a plus."
Brexit impacts Romania in three ways: in the short term, with effects on the financial markets, in the medium term, that is one or two years, with consequences for the economy and also in the long term, with effects at political and institutional level. This is the opinion of the Central Bank's deputy governor, Bogdan Olteanu, who has given assurances that there is no such thing as a crush or chaos and that the market is functional. Olteanu believes that weeks of turbulences might follow, but there are tools for them to be contained.
www.rri.ro
Publicat: 2016-07-01 13:25:00
Vizualizari: 396
Tipareste